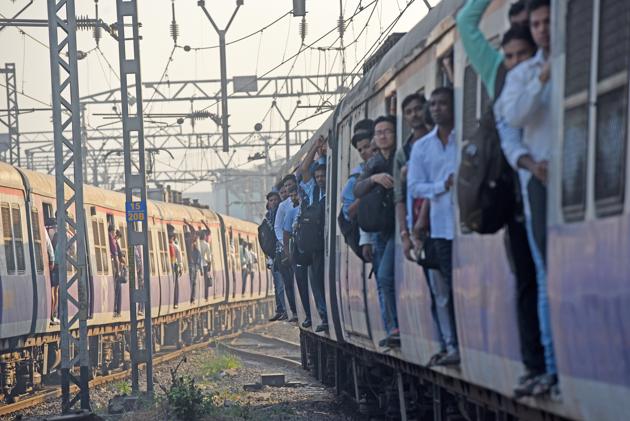 Travelling on footboard of Mumbai's locals may land you in prison for 3 years
Central Railway cracks down on footboard travellers, hopes to reduce deaths
Hindustan Times | By Aroosa Ahmed
, Mumbai
UPDATED ON MAR 14, 2019 08:09 AM IST
Central Railway (CR) has decided to take steps to penalise those who put themselves at risk while travelling on the suburban rail network. In a move that the authorities hope will reduce the number of fatal accidents caused by falling off local trains, commuters travelling on the footboards of trains will be penalised.
Teams of Railway Protection Force (RPF) personnel will be deployed in crowded local trains to identify those standing on footboards and blocking entry and exit of other passengers. In addition to this, a boundary wall is being built to prevent trespassing on tracks.
"Attempts to reduce deaths from falling off local trains are being taken. We will create awareness among the commuters and educate them about the final result of travelling on the footboard. In the next stage, we will start prosecuting people who travel on the footboard daily," said KK Ashraf, senior divisional security commissioner of CR.
According to the railways, 711 people had died in 2018 after falling from Mumbai suburban trains. RPF teams will check identified local trains and then prosecute those travelling on footboards. Those caught will be penalised under section 156 of the Railway Act which prohibits travelling on the roof, step or engine of a train. People travelling on footboards may be punished with imprisonment up to three months or a fine of ₹500.
The zonal railway has also started penalising passengers who are found trespassing on suburban railway tracks. One hundred and fifty people are being penalised every day for trespassing at identified trespassing points. "There has been a reduction in the deaths that were taking place due to trespassing. After people are being penalised every day, the number has reduced," said a CR official.
A 41-kilometre boundary wall is also being constructed in an attempt to control trespassing.The wall will run along 139 identified locations which witness the maximum number of trespassing incidents daily.
Close