Mumbaiites unhappy as big-ticket projects picked over their demands
Hindustan Times |
, Mumbai
Kailash Korde and Chetna Yerunkar
Feb 26, 2016 01:24 AM IST
Although the railway minister did not hike fares, commuters in the city were hoping that Suresh Prabhu, a fellow Mumbaiite, would announce various immediate measures to ease their daily travel
Railway minister Suresh Prabhu's second budget turned out to be a mixed bag for the 75 lakh suburban commuters in Mumbai. The budget has provisions to improve commute in the long-term, but it did not provide any short-term relief for passengers, said transport experts and commuters' organisations.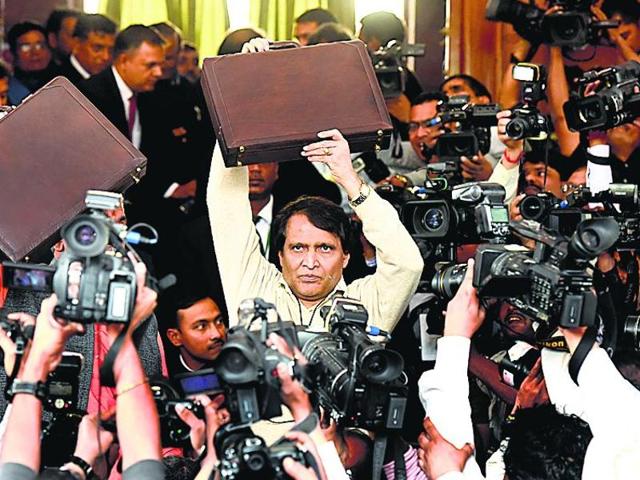 Although the minister did not hike fares, commuters in the city were hoping that Prabhu, a fellow Mumbaiite, would announce various immediate measures to ease their daily travel. They were primarily expecting measures to reduce the crowding in trains with the introduction of more suburban services and additional tracks.
However, Prabhu put futuristic big-ticket projects such as the elevated rail corridors between Churchgate and Virar and CST and Panvel, and the much-talked about Mumbai-Ahmedabad bullet train project on track.
He announced the creation of a special purpose vehicle (SPV) within a month to kick-start the Rs98,000-crore bullet train project.
Significantly, the second and third phases of the Mumbai Urban Transport Project (MUTP), aimed at upgrading suburban railway infrastructure and expanding its network in the growing Mumbai Metropolitan Region (MMR), got a filip. Following a nod from the NITI Aayog, Prabhu indicated that the MUTP-III will be given a push. The MUTP-III involves procurement of 47 new suburban trains, redevelopment of 20 stations in Mumbai, setting up of two more lines between Virar and Dahanu, doubling the Panvel-Karjat route and developing an elevated link between Airoli and Kalwa stations.
Although Prabhu's speech had no mention of it, he also allocated Rs631 crore for the ongoing Rs7,012-crore MUTP-II. Besides, Prabhu also announced Rs80 crore for the project to run 12-coach trains on the harbour line and Rs40 crore each for the Belapur-Seawood-Uran and the Kalyan-Kasara third line projects.
Prabhu also assured that the much-delayed air-conditioned train will be introduced in Mumbai by end-March. Railway officials, however, said the train will be ready for commuters only after trial runs, which will take some time. The minister also announced 11 new railway projects for Maharashtra worth around Rs28,800 crore.
Prabhu expressed concern over deaths on tracks, promising to raise all the low-level platforms at Mumbai's suburban stations in the ensuing financial year. "A single accident or loss of a single life causes me great sorrow and anguish. It also demonstrates that we still have a long way to go in realising our objective of a zero-accident regime. Although our safety record is better at 20% lower accidents compared to the previous year, there is much more that is required to be done," said Prabhu.
He also urged state governments to implement the staggered work hours policy to reduce peak-hour rush in trains.
Commuters' groups in Mumbai, however, were upset with the budget since it failed to include their demand of short-term measures to ease their travel woes.
"The budget has offered more for Maharashtra, but less preference has been given to Mumbai. Only elevated corridors seem to be a silver-lining in the budget. We had suggested certain measures to tackle the crowding issue, which leads to accidents in Kalyan, Thane, Dombivli sections, but nothing has been included," said Dattatray Godbole, vice-president, Upnagriya Railway Pravasi Mahasangh, apex body of railway commuter groups in the city.
"Suburban trains have always been crowded. For senior citizens, it's tough to catch a train, forget getting space to sit. We were expecting some relief in the budget, but it brought only disappointment," said Anandrao Salve, a senior citizen from Kalyan, who is a daily commuter.
Describing Prabhu's budget as "path breaking", chief minister Devendra Fadanvis said the budget will expand the horizons of development without putting any burden on the citizens. "It's a promising budget for Maharashtra and Mumbai, while satisfying for all the sections of society such as youth, women and elders," said Fadanvis.
Opposition parties, however, slammed the budget. Radhakrishna Vikhe Patil, leader of opposition in the state assembly, said the budget was "very disappointing".