Angel will become the most successful song on social media: Taher Shah
May 13, 2016 02:59 PM IST
Taher Shah aka Mankind's Angel answers our questions in his inimitable style and we did not have the heart to edit.
Love him or hate him, but you can't ignore him. Whimsical long locks complete with a tiara, green eyes that shine through the screen, wings itching to fly and messiah-style robes that glide on grass — Pakistani singer and internet sensation Taher Shah is enjoying his reign as Mankind's Angel. His Angel Song has garnered more than 3 million hits and his debut single, Eye To Eye got 2 million hits. He talks about the love he receives from his 'universe fans'.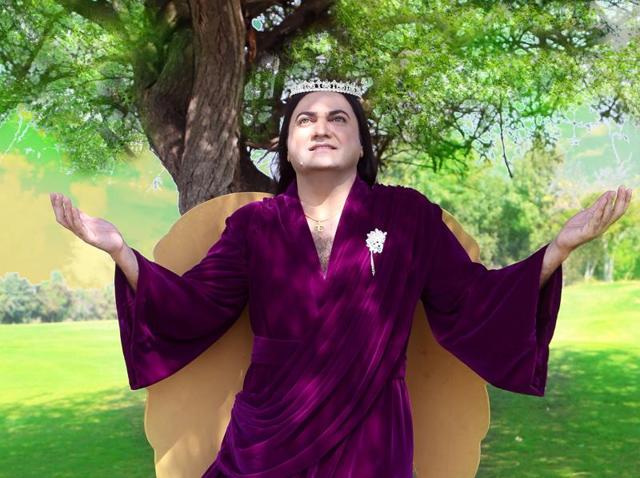 Read: Another convoluted, wacky gem from Taher Shah's magic box
Your songs are very popular. Did you expect this love from the world?
I feel very humble and appreciate my fans because of their true love. While writing Angel Song lyrics I was positively aware that it will be a huge success and indeed it has surpassed my debut, iconic Eye to Eye. It will surely become in a short time, one of the most successful songs in the history of social media. My fans are my real soul and I would request all my universe fans, including in India, to unite together with me and become Angel like humans and value humanity's worth and spread love throughout the world. Regarding shows, I have so many offers from around the world, including India, and I love to perform for my worldwide fans.
Your style is very unique. Do you design and ideate your outfits yourself?
I am setting up a new trend of uniqueness in my work. The song invention, its lyrics, production, direction, style ideas, outfits design are all done by me. My art requires a satisfaction of my professional work. Although, I take time to create, but now fans and people understand that for real classic work, time is very important. Hence, my songs, lyrics and singing is the main strength of my classic super-hit songs.
What inspires your music?
True love. Music is my passion and my passion makes me a passionate singer. Eye to Eye conveyed the message of true love and the Angel Song's inspiration is love for humanity and respecting everyone as mankind's Angels.
Read: A short guide to the awesomeness that is Taher Shah
If you get any negative comments, how do you handle them?
People have their own opinions — positive or else. But, for me, criticism is the key for positive work. When criticism is negative also, I take it positively. I believe that my good work will always work for me. My fans admire and motivate me. They express their true love in their thousands of e-mails and messages and they've named me the 'King of Social Media'. I feel humbled for this great love.
What are your future plans?
In this regard, I request all my fans and followers to please keep loving me. People's admiration motivates me to work and makes me more dedicated for my future projects. Considering that I am doing a Hollywood movie also. It's a collaboration between my company Eye to Eye Ltd.and A-Media USA. The subject is love and film is named Eye to Eye. It's in the initial stage and we are willing to complete it as soon as possible, with this assurance that the worldwide fans will surely love it.