Kailash Kher on his suicide attempt: I jumped into the river but my friend saved me
Before he became one of the leading musicians of India, a huge loss in a business deal led Kailash Kher to try drowning his misery. He did so by jumping into the Ganges... but luckily, someone was watching.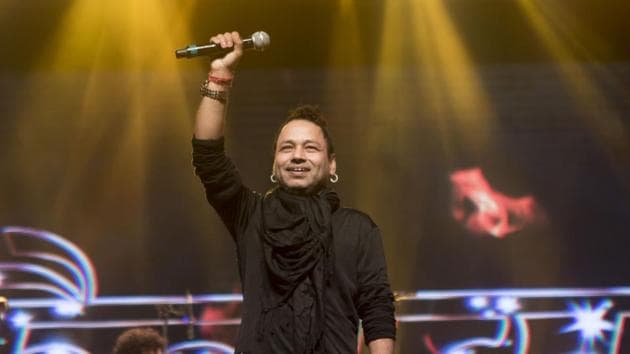 Updated on Oct 27, 2017 08:08 PM IST
We all fell in love with Kailash Kher's voice, when he sang Allah Ke Bande for the Arshad Warsi film Waise Bhi Hota Hai Part II (2003), but we wouldn't have heard that song or any of the hits that followed, if fate hadn't intervened in the form of a friend.
In an exclusive interview with us, Kailash, who has sung hits such as Teri Deewani (from the album Kailasa, 2006), Chak De Phattey! (from the film Khosla Ka Ghosla, 2006), Chak Lein De (from the film Chandni Chowk to China, 2008), and Kaun Hai Voh (from the film Baahubali: The Beginning, 2015), reveals that before his remarkable music career began, a serious financial loss had made him suicidal — and he actually tried to end his life!
"I had lost a lot of money, and my world had come to a standstill," he tells us. "I was in depression for a year, and when I couldn't find any solution, I decided to take my life. In fact, I jumped into the river, but my friend saved me." And this is how the story unfolds.
Before becoming a singer, Kailash had an export business in Delhi. His adolescent years were rough; he had run away from his Meerut home at the age of 14. He reached adulthood doing odd jobs in Delhi and then started this business. During this time, the young Kailash faced a series of problems, but faced them with a positive attitude.
Recalling those years, he says, "I've had everything thrown at me in my life, and I've been through really difficult circumstances, because I was all alone. I don't mean to complain, and say, 'Look, what all happened with me.' Everyone has problems in their lives. I never thought to myself, 'Oh my God, what's happening to me', or 'When will things ever get better'. I just kept on fighting," he says.
His perseverance was paying off. "For someone, who never had a great life, things were getting better," says Kailash. But suddenly, when he was about 27 years old, disaster struck. "In the blink of an eye, everything just fell apart. I crumbled under it, because I never imagined it would happen," Kailash adds.
Although the singer now feels that attempting suicide was a mistake, at that time, he thought he had "no other option". He explains, "I had bought a plot of land, thinking I'd get a lot of money from that business deal. My parents lived in a rented house, and after I bought the plot, I was very proud of myself. I thought to myself that I've bought my parents their home. But then the deal fell through, and I lost Rs 22 lakh in that deal," he says. Whatever financial gains he had made through his hard work were wiped out.
After his business failed, and after "multiple tries to get going again", Kailash decided to pursue a career in his father's field. He moved to Rishikesh to learn Karmkand (a subject of astrology that helps one attain nirvana and get rid of all evil), his father's occupation. But this didn't help. His depression, caused by the huge loss, persisted.
After a year, when Kailash couldn't cope with his state of mind any more, he felt suicidal. The singer says, "I had hit rock bottom. I used to stay away from everyone. One day, I was on one of the ghats [in Rishikesh], and the Ganga was flowing next to me. As I was thinking about what had happened over the past year, I just let go of the chain and jumped into the river." But that wasn't his day to die. "A friend of mine [who was nearby] thought I had slipped into the river, and he jumped in to save my life," says Kailash. "Had he not seen me and saved me, I wouldn't be talking to you today."
Sixteen years after that attempt, with more than a thousand of his songs in the public domain, Kailash has realised that trying to end his life wasn't the right thing to do. He says, "If I were to go back in time, to meet my 28-year-old self, who was about to take the plunge, I would stop him, and say I don't have any right to take my life. If I don't have the right to decide what happens for me in future, or how my life will turn out, then I don't have the right to take this life either. My life belongs to the Almighty. Only he can decide when it's time to go."
Follow @htshowbiz for more
Close Story