Shape Of You: Hey Ed Sheeran, the internet is in love with this tune by you
Updated on Mar 28, 2017 07:13 PM IST
English singer Ed Sheeran's hit song, Shape of You, continues to inspire endless renditions since its release in January this year. Here's what all went viral.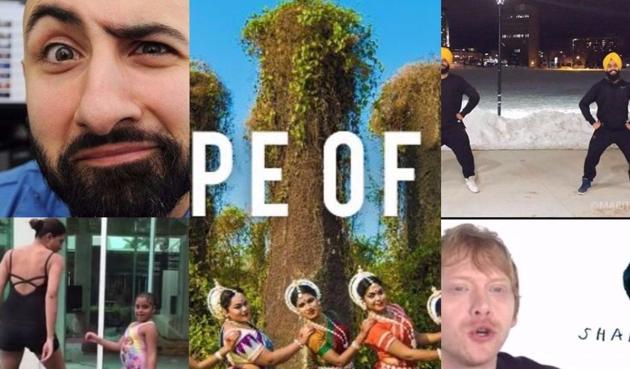 Scroll your Facebook timelines, or surf YouTube, and you'd come across one or the other version of Shape of You. The original hit song by English singer Ed Sheeran continues to rule music charts and inspire renditions since January, when it was released. From celebs dancing to the peppy tune to many tweaking its lyrics to convey a message — everyone's attempting their own version.
What's the latest? Actor Sushmita Sen and daughters Renee and Alisah dancing to the song, giving a sneak peek at what their recent vacation was like. Here's what the internet is obsessing over.
The Singing Dentist version
Next time you want to lecture someone about oral hygiene, show them Dr Milad Shadrooh's aKa The Singing Dentist's Save Your Teeth video and you'll have them hooked to it. Uploaded on Feb 21, it has crossed 2 lakh hits on YouTube, and over 1 crore views on Facebook. The lyrics go like, "Need to brush twice (a day) and get the floss in between."
Remember the IIT Roorkee video?
Around Valentine's Day, it was four engineering students of Indian Institute of Technology (IIT) Roorkee who became a rage with their version on how to impress a girl. The video crossed 97 lakh hits since its upload on February 13.
Sushmita Sen's vacay mode
Celebs are at it too. Bollywood actor Sushmita Sen and her daughters Renee and Alisah are seen dancing to the song in their holiday version that gives a sneak peek at what their recent vacation was like.
Even Rupert Grint made one
English actor Rupert Grint (famous for playing Ron Weasley in the Harry Potter film franchise) did a dramatic reading of Shape of You. The video released a week back, on March 20, and has garnered over 3.2 crore views.
There's one with Tabla beats
We're talking about Canada-born Shobhit Banwait's cover of the popular song that has Tabla beats. The video has received over 70,000 hits since March 17, when it was uploaded on YouTube.
And, a Bhangra mix, too
Another Indo-Canadian rendition of the song sees two Sikh artists of Maritime Bhangra Group add a Bhangra twist to the tune, and dance in sync on the track. The video, uploaded last month on YouTube, has crossed 2 lakh hits.
The song is also helping promote tourism in Odisha
Dancing to the tune of the popular song are Odissi dancers in the video as they promote the local sights in the state. The video has crossed 1 lakh hits already since it was uploaded on March 19.
Have you heard the DU version?
Delhi University's Ramjas College student Aniket Dhingra has come up with a mash-up cover of Shape of you and Nashe Si Chad Gayi (Befikre), highlighting the ABVP-AISA clash at Ramjas.
Just in case you're missing the original song, here you go:
Follow @htshowbiz for more
Personalise your news feed. Follow trending topics