How smart solutions can ease traffic jams in our cities
Published on Jul 18, 2017 03:38 PM IST
Given the increasing traffic jams in our cities, how does one optimise the use of the existing road infrastructure without additional capital expenditure?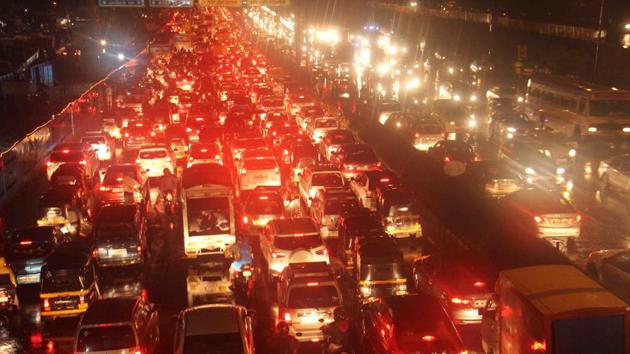 Suresh Subudhi and Vineet Vijayavargia
The biggest problem facing transport in cities today is capacity, with road systems creaking under the strain of cars. The traffic snarls reported from Mumbai for the past two days are a case in point. Most of India's metros figure prominently in the global list of cities with the most painful commute. Traffic congestion has reduced the average speed of vehicles in key cities to less than 20 kmph, plagued by several urban transport issues like poorly designed entry and exit points on roads and freeways, the dual presence of chaurahas and signals, the absence of lane markings and poor intersection management.
How does one optimise the use of the existing road infrastructure without additional capital expenditure? Below, we have identified several intelligent traffic management solutions (ITMS) that aim to ease both existing and future challenges facing road traffic.
Advanced traffic advisory for one, uses various intelligent sub-systems like sensors, CCTVs, VIDs etc on roads and vehicles to provide 24/7 traffic advice on various aspects like current and future average speeds, delays, incidents, congestion, roadwork, adverse weather conditions etc. to a commuter on their smartphone. Complementing this could be the variable message signs strategically placed along roadways, to display real time information for a variety of situations including emergencies, construction and road closures.
Most drivers can relate to being stuck in traffic wondering if a green light should have lasted longer in a particular direction given the traffic on that side. This can be resolved through adaptive signal control technology, wired together through an IP network adjusting to the demand of traffic in real time. Japan has already seen the successful implementation of this technology and reduced traffic congestion by 35%.
While most intelligent traffic management solutions are innovative, they're also practical. Variable lane capacity management makes congested highways/bridges/freeway systems more efficient, safe and functional. It reconfigures the roadway using movable barriers that are shifted back and forth several times a day to create high occupancy vehicle (HOV) lanes that match traffic demand. This dynamic solution offers real-time increase in road capacity and maintains positive barrier protection between the lanes.
Often the lack of timely measures for incident resolution and management results in congestion and the occurrence of secondary incidents. The need of the hour is a solution that intimates operators about congestion and incidents and accidents immediately as they happen, allowing control centers quick confirmation through CCTV integrated in the platform to enable prompt assistance dispatch.
The construction of U-shaped loops are worth considering as they minimise traffic congestion and significantly reduce the occurrence of severe crash types while facilitating movement across intersections without traffic jams. This solution delivers more for less, getting more cars through the same spaces than a conventional intersection with improved safety.
All of the above intelligent traffic management sub-systems are implemented and integrated by a centralised traffic control centre, that also generates and transmits important traffic related information to facilitate intervention.
According to some studies, the anticipated average journey speeds in major corridors in major cities are expected to reduce from about 12kmph presently to less than 6kmph by 2030, if the traffic congestion issues are not addressed. There lies a clear opportunity for the major cities of India in using intelligent traffic management systems to increase situational awareness across the entire transportation network, analyse traffic performance to improve travel experience, and improve economic efficiency for the cities themselves.
Suresh Subudhi is partner and director and Vineet Vijayavargia is project leader at the Boston Consulting Group
The views expressed are personal
Personalise your news feed. Follow trending topics