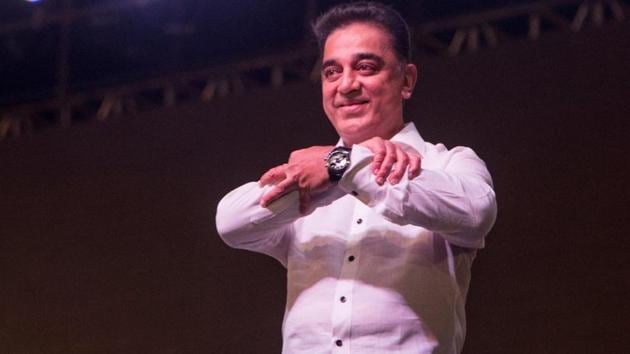 Makkal Needhi Maiam: Kamal Haasan's new release gets a grand opening, but will it maintain momentum?
Kamal Haasan at the mega launch of his party at Madurai failed to explain his vision for a better Tamil Nadu. Catchy tunes and punch dialogues are hardly enough to win the confidence of the electorate
UPDATED ON FEB 22, 2018 04:49 PM IST
On Wednesday, Tamil actor Kamal Haasan launched his political outfit at Madurai in Tamil Nadu, and kept alive the decades-old tradition in the state of actors turning politicians. The name of the party — Makkal Needhi Maiam (roughly meaning Peoples Justice Forum) — and the symbol — six hands holding each other forming a circle with a star at the centre — was unveiled at the function.
As far as political parties go, the launch — to borrow from the cinema lexicon — was a neatly-scripted, well-directed show with good choreography and enough punch dialogues. From choosing former President APJ Abdul Kalam's house in Rameswaram to start the day's show on Wednesday to culminating the events with a mega event at the Ottakattai Grounds in Madurai, Kamal Haasan yet again proved that he is a great showman.
The event in Madurai had a certain nuance to it: different from your regular neatly-charted, predictable and often boring political rally, Haasan's was impromptu in parts, but fuddled and sententious.
At Madurai, Haasan showed that politics is his forte. For a whole day with the media following his every move, he talked about what was bad in politics, without mentioning how he intended to correct it. Haasan did not talk about his politics, his focus areas and how he is intended to lead the people of Tamil Nadu.
This gave the impression that the launch was made in haste; leading to the question: was he trying to get a first-mover advantage over fellow-actor Rajinikanth? Though Rajinikanth has been procrastinating about his political ambitions and prevaricating about his ideological leanings for more than two decades now, it was Haasan who seemed confident about his political voice and ambitions, especially after Jayalalithaa's death in 2016. However, late last year Rajinikanth announced his political ambitions, and as has always been the case, stole Kamal Haasan's thunder.
By refusing to call his political outfit a party (katchi) but preferring forum (maiam), Haasan has suavely kept his political options open. His explanation that the six hands in the symbol represented the six southern states could have been aimed at consolidating a Dravidian identity south of the Vindhyas, but this is easier said than done. Outside Tamizh Nadu (as Haasan has been stressing on the way it is pronounced in Tamil) the Dravidian ideology has few takers.
What I could not help noticing was the void onstage at Madurai. For a grand launch and the beginning of a new political journey, the stage resembled a near-empty railway coach. Except for three leaders — AAP convenor and Delhi chief minister Arvind Kejriwal, AAP Tamil Nadu in-charge Somnath Bharti and farmers' leader PR Pandian — there weren't any heavyweights. It is doubtful how much importance should be given to the presence of AAP leaders and what impact they will have.
Kejriwal, while praising Haasan, said that till now the people of the state had only two "corrupt" parties to choose from, and that Haasan was the clean alternative. Kejriwal could have forgotten that there have been smaller parties that have from time-to-time played an important role in the state and central governments, but how could he forget that AAP stood in 25 of the 39 Lok Sabha seats in the 2014 elections and failed to put up a respectable fight in any one seat? Also, Kejriwal's endorsement of Haasan can be seen as a sign of the AAP drawing the curtain over its electoral ambitions in Tamil Nadu.
The largely empty stage could be indicative of the political void Haasan is going to face in the time to come. With elections around the corner it is to be seen how he would build his party, from scratch.
Haasan could learn from AAP's lessons in Tamil Nadu: good intention and an honest effort, while commendable and necessary traits, are not enough to win an election.
Many would argue that Tamil Nadu is changing and the 2017 pro-Jallikattu protests is proof of this change. The counter to this would be the results of the RK Nagar bypoll held in December. It is misleading to read a protest against perceived cultural oppression (which was the ban on Jallikattu) as a sign of maturity on the side of the electorate. Changing electoral behaviour for the better is often a long-drawn-out process.
There are times when you see a movie and come out of the theatre applauding the effort and craft gone into making it, but deep down you know that it does not have the required ingredients to become a box office hit — I wish I'm wrong, but Kamal Haasan's Makkal Needhi Maiam gives that feeling.
The author tweets as @VijuCherian
Close