The Doklam stand-off was resolved because of Modi's Hamburg initiative
Updated on Sep 09, 2017 06:56 PM IST
Before he entered the informal Brics meeting hosted by China post the G-20 summit at Hamburg, PM Modi had decided to take matters into his own hands; and take up the issue personally with President Xi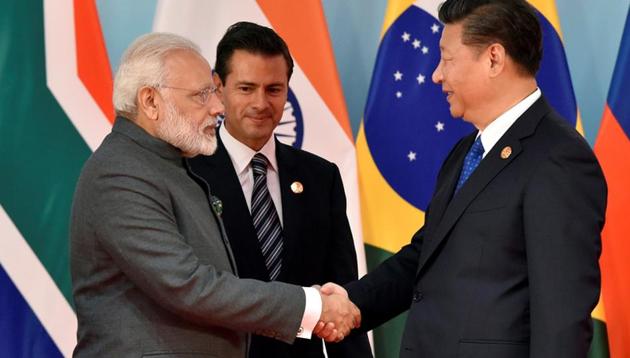 It was Prime Minister Narendra Modi's Hamburg initiative with Chinese President Xi Jinping on July 7 which pulled back the two Asian giants from confrontation and triggered off hectic diplomatic negotiations between New Delhi and Beijing that ultimately led to peaceful disentanglement of the Doklam stand-off on August 28.
After talking to multiple sources involved in the de-escalation exercise, Hindustan Times has learnt that before he entered the informal Brics meeting hosted by China post the G-20 summit at Hamburg, PM Modi had decided to take matters into his own hands; and take up the issue personally with President Xi. With Xi's English to Chinese interpreter standing near him, PM Modi apparently walked up to the president and held his hand before making it clear that the Doklam stand-off was not in the interests of the two nations and the matters should be sorted out soon. President Xi apparently replied that he agreed with PM Modi and said that two sides should be diplomatically in touch with each other. This was the first thaw in the Doklam freeze.
Post the resolution of the stand-off, President Xi went a step further at the Xiamen bilateral meeting on September 5 when he said situations like Doklam were not in the mutual interest of the two nations; and such situations should not be allowed to recur. President Xi apparently told PM Modi before the official delegates that what united the two nations outweighed the differences; and tensions between the two countries would only benefit others. The Chinese core leaders did not specify who the others were.
Significantly, when PM Modi was talking to his Chinese counterpart at Xiamen, Foreign Minister Sushma Swaraj was in Russia and then Defence Minister Arun Jaitley was in Japan discussing on how the Pakistani A.Q Khan network is responsible for proliferation of nuclear weapons in the context of a belligerent North Korea. During the entire 71-day stand-off, Indian diplomatic negotiators found their Chinese counterparts to be reasonable, a far cry from the war mongering media statements emanating out of Beijing. This was also seen during National Security Advisor Ajit Doval's meeting with his Chinese counterpart Jiang Jiechi on the sidelines of the Brics NSA summit on July 27, 2017.
While both India and China have moved ahead from Doklam, the situation on the ground is that troopers from both sides are separated by more than 200 meters after staring each other down from 20 meters before August 28. With live feeds on ground available to both armies, there is no presence of any road construction machines, bull-dozers or earth-mover machines on the plateau which is disputed between Beijing and Thimpu. However, the big build-up on both sides behind Doklam will dissipate over time.
Although the Indian Army chief Bipin Rawat constructed various war scenarios including a two-front theory at a military seminar on September 7, New Delhi has no intentions of disturbing the Xiamen spirit and wants peace and tranquillity to prevail along the 3,488 km line of actual control (LAC) with China. Both leaders are clear that military confrontation is not an option between two aspiring world powers.
Close Story
Personalise your news feed. Follow trending topics