Adityanath's farm loan waiver will provide only temporary relief
Updated on Apr 29, 2017 07:29 AM IST
While the loan waiver scheme in UP is a welcome step, keeping in mind the scarce rains in past year, knee jerk reactions like occasional waivers won't help in transforming the state of agriculture in the state.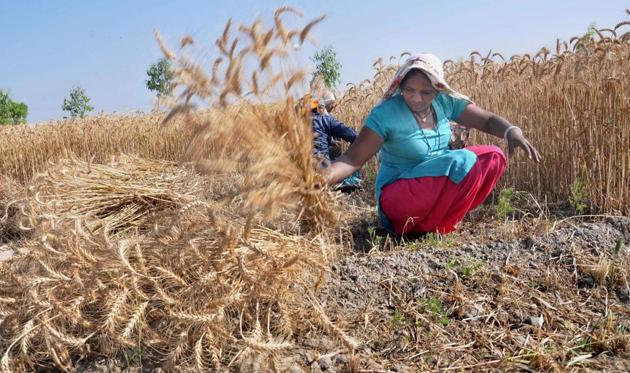 In its first cabinet meeting on April 4, fulfilling its poll promise, the newly elected BJP government of UP announced a Rs 30,729 crore scheme to waive crop loans up to Rs 1 lakh of small and marginal farmers in the state. Pro government voices are lauding the "farm loan" waiver, while the critics are crying foul over a treachery with farmers by restricting it to crop loan only, contrary to poll promises.
There are around 2.30 crore farmers in UP, with the number of small and marginal farmers coming around 2.10 crore, but not all of them take loans. One indicator for this is the number of Kisan Credit Cards, a major instrument of taking loans by farmers. The KCCs issued till March, 2015 were around 41.32 lakh, covering only a small section of farmers. Further, there are different types of agricultural loans – crop loans, loans against warehouse receipts, produce marketing loans, KCC-based loans, investment loans, etc. A crop loan is a loan given in connection with raising a crop, to be repaid in 18 months, while other loans such as investment loans are meant for direct agricultural and allied activities such as buying a tractor or deepening-boring of new wells etc.
Previous loan waivers like the "Agricultural Debt Waiver and Debt Relief Scheme" launched by UPA government in 2008 included both crop loans and investment loans under its purview. But since the present scheme is limited to crop loans alone, it is expected to cover a smaller number of farmers, estimated to be around 86 lakh, as mentioned by a post on social media by the office of UP CM.
Contrary to what critics say, the BJP in its poll manifesto categorically promised a waiver of "crop loans of all small and marginal farmers" only, and the party has definitely fulfilled its promise. However, opposition parties are right when they allege that the BJP did not put in the Rs 1 Lakh limit then; and in their poll speeches, party leaders have not specified details of the promise, keeping it open ended to attract as many votes as possible.
UP is not just a politically significant state of India because of the number of MPs it sends to Parliament; it is also agriculturally significant since it is the biggest producer of wheat, potatoes, sugarcane and milk in India, and the second largest producer of rice and grams. As more than 50% of the state's population is engaged in agriculture, farmers are the most influential group of voters in UP.
While the decision is a welcome step, keeping in mind the scarce rains faced by farmers in past year, knee jerk reactions like occasional loan waivers won't help in transforming the state of agriculture in the state. Various agricultural censuses and other studies have pointed out that our agriculture is suffering from a phase of persistent and acute crisis with the costs of inputs rising, costs of outputs decreasing, climate change leading to vagaries of weather increasing risks of crop failure, etc.
In this scenario, farmer suicides have become a regular feature, while a significant section of farmers wants to quit agriculture, given a chance. Any plan for the revival of agricultural sector without a holistic approach, focussing on the structural problems haunting it, will only provide temporary relief, but won't work in the long run. Take the case of Bundelkhand, which has received a number of relief packages worth thousands of crores of rupees, both by the previous UPA and current NDA governments, along with drought relief packages by state governments, but the situation of Bundelkhand's farmers is still miserable.
In this scenario, the not-so-talked-about steps announced after the cabinet meeting, like a committee under Deputy CM Keshav Prasad Maurya to look into the problems of potato farmers, signals that the BJP government is thinking on these lines. Further, the announcement of Rs 10 bonus per quintal in the procurement of wheat from farmers and opening of 5000 new buying centres is also welcome. However, all this will only help if the centres are run properly, as timely transportation of procured wheat is vital.
Rajan Pandey is an independent writer with a PhD on peasant studies. He has been writing on UP politics for many years.
Personalise your news feed. Follow trending topics