2018 Commonwealth Games boxing: MC Mary Kom, Gaurav Solanki lead India's medal rush
MC Mary Kom won gold after beating Kristina O' Hara of Northern Ireland in the finals of the women's 48 kg boxing final at the 2018 Commonwealth Games in Gold Coast on Saturday. Gaurav Solanki won gold in the men's 52 kg boxing category, while Vikas Krishan won the men's 75kg gold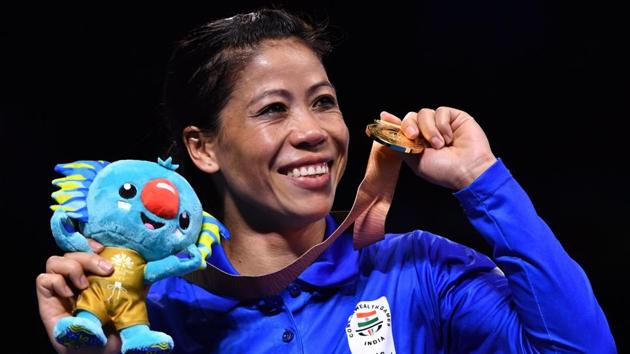 Updated on Apr 14, 2018 08:33 PM IST
They call her Magnificient Mary and MC Mary Kom lived up to that moniker with a brilliant performance as she led the Indian boxing squad to their best ever performance in the Commonwealth Games in Gold Coast on Saturday. (CWG updates)
Just when people were asking whether the 35-year-old mother of three and former world champion, Asian champion, Asian Games gold medallist and Olympic bronze medallist still has the resolve and drive to win against competitors who are nearly a decade younger than her, Mary Kom proved that she still has the hunger and desire to not only compete but also win. The level of competition in the Commonwealth Games may not be the toughest and there were only eight comptetiors in the light flyweight (45-48kg) class, but Mary Kom still came up with a superb performance to bag the gold medal.
With Mary Kom starting the gold rush, Gaurav Solanki and Vikas Krishan too won gold medals while Amit Phagal, Manish Kaushik and Satish Kumar claimed silver medals. India had won three bronze medals on Friday, thus the tally of three gold, three silver and three bronze medals make it India's best-ever performance in Commonwealth Games boxing competition.
READ | 2018 Commonwealth Games: Neeraj Chopra wins gold in men's javelin throw
In a bout where she was the favourite because of her vast experience and superior technique, Mary Kom fought well against an opponent with whom she had sparred earlier and also played practice matches. She knew O'Hara's game well and used that knowledge to win the match 5-0.
"It was a good experience for me, but anything can happen in the ring. I just have to be confident that I can do my best. My opponent was very competitive. Even my sports minister came to cheer me on. My country will be very proud. I have to thank god and my coaches," Mark Kom said after her win.
Gaurav Solanki impressed in winning the men's 52kg gold as he defeated Brendan Irvine 4-1 on points in a split decision. It was a close contest but Gaurav managed to get the favourable verdict with some good combination of punches. He was aggressive and went on the attack in the first two rounds, during which he was injured when his opponent's elbow opened a cut on his head. Gaurav then kept the pressure in the third round.
READ | 2018 Commonwealth Games shooting: Sanjeev Rajput wins gold in men's 50m rifle 3 positions
Vikas Krishan triumphed against Cameroon's Dieucdonne Wilfried Sevinisengue in the men's 75kg class as he outwitted his opponent 5-0.
Three other Indian pugilists were in the finals but lost to their opponents – Amit and Manish Kaushik - going down on split decision in closely fought matches.
Manish lost to local hope Harry Garside 3-2 as he could not make up for the height and reach disadvantage.
The performance does give some hope to India as they have some tough competitions ahead in the Asian Games and the World Championships later this year.
Close Story