Caster Semenya loses case against IAAF
A three-member panel of judges at the Court of Arbitration for Sport (CAS) dismissed the appeal in a complicated judgement that called the rules 'discriminatory' but also 'necessary'.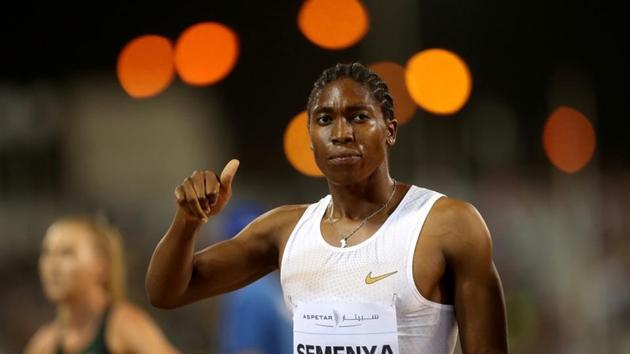 Published on May 02, 2019 10:00 AM IST
Hindustan Times, New Delhi |
Dhamini Ratnam & Rudraneil Sengupta
South African athlete Caster Semenya lost her appeal against rules that make certain female runners ineligible to compete based on the levels of the naturally occurring hormone testosterone in their bodies.
The 28-year-old, a two-time Olympic champion and current world champion in the 800 metres, had challenged the International Association of Athletics Federation's (IAAF) rule that female athletes are only allowed to run if their testosterone levels are below 5 nanomoles per litre of blood. The rule only applies to those running in categories ranging from 400 metres to 1500m.
A three-member panel of judges at the Court of Arbitration for Sport (CAS) dismissed the appeal in a complicated judgement that called the rules 'discriminatory' but also 'necessary'.
Semenya and Athletics South Africa had requested that the regulations be declared invalid, because they were discriminatory, unnecessary and disproportionate. The IAAF contended that the regulations did not infringe on athlete's rights, and were a justified means of preserving fair and meaningful competition within the female classification.
The judges ruled 2-1 that "on the basis of the evidence submitted by the parties, such discrimination is a necessary, reasonable and proportionate means of achieving the IAAF's aim of preserving the integrity of female athletics in the Restricted Events."
These rules apply specifically for 'DSD' (Differences in Sex Development) athletes.
People with DSD do not develop along typical gender lines, and may display a mix of male and female characteristics in their hormones, genes, and reproductive organs.
While the IAAF says it does not question the legal sex of DSD athletes, it does believe that some of these athletes can hold an unfair edge because of extra testosterone, the hormone that regulates muscle and bone growth.
The rules currently in place put the onus on female athletes to lower their testosterone levels through medication.
A statement released by Semenya's legal team stated, "Caster Semenya is pleased that a unanimous CAS Panel of three arbitrators confirmed that the IAAF's DSD Regulations are in fact discriminatory against certain women. Ms Semenya is, however, disappointed that two of the three arbitrators concluded that such targeted discrimination is necessary."
Semenya, whose 2009 IAAF World Championship win came under a cloud after a blood test found that the level of naturally-occurring testosterone in her body was higher than the prescribed limit at the time, has been fighting this rule ever since.
"I know that the IAAF's regulations have always targeted me specifically. For a decade the IAAF has tried to slow me down, but this has actually made me stronger. The decision of the CAS will not hold me back. I will once again rise above and continue to inspire young women and athletes in South Africa and around the world," she said in the statement.
Troubled history
The IAAF's history with regulations meant to make women's events 'fair' has a troubled history.
In 2015, IAAF's "Hyperandrogenism Regulations", which also set a prescribed limit, was cancelled by the CAS on account of Indian athlete Dutee Chand, who was dropped from an international competition after a surprise blood test revealed high testosterone levels.
Chand challenged the rule, which at that time applied to all female athletes (irrespective of the distance category that they ran in), and won. The judges—two of whom were also on the current panel — had then ruled that the IAAF did not have reasonable proof that extra testosterone gave athletes an unfair advantage.
This led the IAAF to suspend the rules, and come up with a new set of regulations, based on fresh studies, that restricted the testosterone limit to only 400m to 1 mile categories.
In 1988, when chromosome tests were done to monitor gender classifications, Spanish hurdler Maria Jose Martinez-Patino successfully fought a ban imposed after she was discovered to have XY chromosomes typically found in men.
She demonstrated that her condition made her insensitive to the 'excess' testosterone in her blood, and chromosome testing, which had been the norm since 1967, was dropped.
Payoshni Mitra, an athletes' rights activist who was one of the 10 experts who testified for Semenya, and who was also instrumental in the Dutee Chand case, said, "It is important to know that all the members of the arbitration panel agreed unanimously that these rules are discriminatory. They also expressed serious concern about whether at all it is possible to implement these regulations. On the basis of my experience of working in national level, I strongly believe that the regulations are impracticable."
Canadian Olympian and author Bruce Kidd, an activist for equality in sports, said, "It's a huge defeat for inclusive and respectful sport, athletes' rights and women's rights, and I fear that the implementation of the IAAF rule around the world will unleash a medical war of terror on female runners."
Kidd had also worked on the Chand case in 2015.
In March, the United Nations Human Rights Council had also released a statement saying plans to classify female athletes by their testosterone levels "contravene international human rights" and are "unnecessary, humiliating and harmful".
The CAS also expressed "serious concern" as to the future practical application of the DSD regulations in its ruling, and "strongly encouraged" the IAAF to address these concerns.
Close Story