Coaching kids great learning experience, says former squash World No 1 David Palmer
Oct 20, 2017 01:33 PM IST
Former world squash champion David Palmer, who has worked with the likes of Joshna Chinappa and Harinder Pal Sandhu, says Indians have the potential to become world beaters.
Anjali Soni, a talented teenage squash player from Chandigarh, played the age-group nationals the last two years with not-so happy results. Sheis determined to overcome her first-round jinx and make an impression in the upcoming nationals in Ajmer.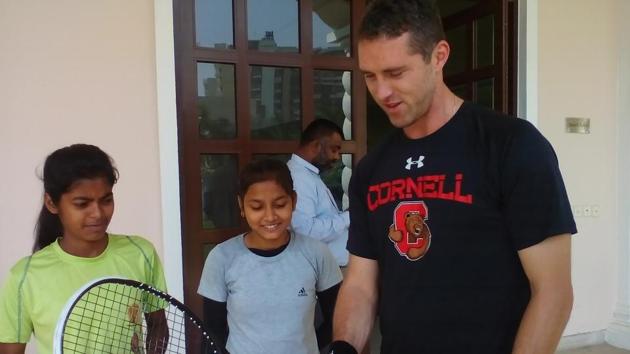 Soni's plans, or rather her game, has got an edge this time around, thanks to a former world champion. She was one of the ten young squash players from humble backgrounds who attended a week-long camp under former World No 1, Australian David Palmer.
The camp, an initiative by Renew Power, a Gurgaon-based firm, involved fine-tuning the basics of the players, arming them with solid strokes that would supplement their natural talent.
(Read | Indian coach 'hugs' British girl at world youth archery, suspended for life)
Back to basics
The week-long camp concluded on Tuesday with the players gaining some valuable insights and tips from Palmer.
"Six days is too less a time, but the idea was to spot technical flaws and prepare different goals for each individual so that they could follow them back home and improve their game," Palmer told Hindustan Times.
The Australian, currently the head coach of squash at Cornell University in the US, said technique is one of the most important aspects of game, and was sad that it is overlooked by youngsters. That's one reason why, in the camp, he conducted drills to make the students understand the importance of ball control.
"To be a successful player, right opportunity isn't enough. There has to be a good blend of coaching too," he added.
Palmer was happy with the feedback from the players as well as local coach, former India international, Ravi Dixit.
"All of them have taken note of the drills and have assured they will work hard," said Palmer after the conclusion of the camp.
(Read | India on cusp of a unique revolution in a very Special Olympics event: Shriver)
Challenge of coaching
Palmer has been involved in fund raising and community service that involves coaching underprivileged kids in the US.
He said working with kids is a great opportunity to learn more.
"With some kids one has to be more firm while others are shy and need a different approach," said Palmer, adding that each day throws up a new challenge. "Some learn faster from visual aids such as videos. The goal varies from individual to individual. The challenge is always there and that's the best part of coaching."
Indian potential
Sports, in general, and squash in specific, have undergone rapid changes in the past decade with science and better equipment becoming part of the training system, said Palmer.
"Therefore, young players have to be nurtured in a different way. It makes the task of the coach more challenging. There has to be different goals—short, mid and long term---in the annual training cycle," he added.
In the recent past, Palmer has guided some of the top Indian players including Joshna Chinappa and Harinder Pal Sandhu, and is familiar with the Indian sports system.
"There is lot of potential but there is no magic to reach the top. It all boils downs to hard work and getting the right kind of opportunity," he added.
Mind over matter
According to Palmer, mental training is an important aspect of training and should be incorporated from a young age.
"Mental side of the game is generally overlooked. It is 25 percent of training. Drills have to be done in training and cross-checked in competition," said Palmer, who once dominated world squash, and was known for his physical fitness as well as his mental strength. He won the World Open twice and the prestigious British Open four timed during his career that peaked between 2000 and 2010.
"If I was winning matches on a bad day, it was due to my strong mind-set," he said, adding that finding a way to win on a bad day is important. "That's the difference between the top guys and the rest of the field." he concluded.