Hockey year-ender: Nothing to cheer about, Asia Cup gold only hurrah for Indian team
Successes were few and far between till the Indian men's hockey team ended the year with Asia Cup gold and bronze in Hockey World League Final and women emerged Asian champions.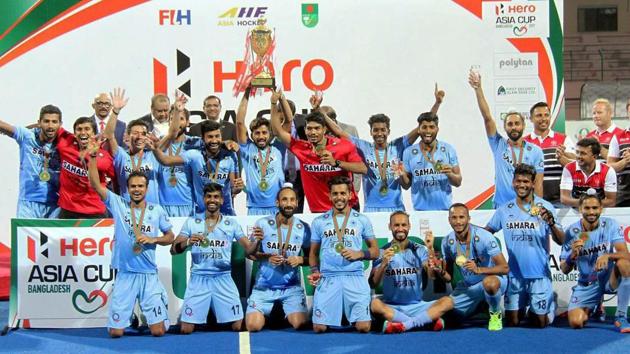 Updated on Dec 26, 2017 12:37 PM IST
The Indian men's hockey team ended the year the same way they had started — winning bronze. In between, they were sublime at times and ordinary on occasions, struggling for consistency — a malady that has stymied their growth for years.
The men's team kicked off the year, finishing third in the Sultan Azlan Shah Memorial in April-May. The feeling of euphoria was replaced when they lost to hosts Malaysia that halted the team's march to the final.
READ | International hockey federation CEO Jason McCracken quits after sponsors shy away
There was an early setback as captain and goalkeeper PR Sreejesh, one of the best in the business, suffered an ACL injury and was out for a lengthy period. He is yet to return to competition.
MANPREET TAKES OVER
Akash Chikte and Suraj Karkera stepped up to the plate to share the goalkeeping responsibilities while Manpreet Singh was named captain for India's next major assignments --- the tour of Europe followed by the Hockey World League Semi-Final in London.
Manpreet thus emerged as the new fulcrum in the Indian midfield, taking over the mantle from Sardar Singh, the former India captain who had a poor year. Questioned by British police in London over a complaint by a former girlfriend, Sardar was shunted up and down the turf before being dropped for the Hockey World League Final. As the team gets ready for bigger challenges in 2018, Sardar's return looks bleak.
India had mixed results on the tour of Europe, highlighted by a couple of wins in Test matches over World No 4 Netherlands and Austria, but their campaign in London was a disaster as they slumped to defeats against lower-ranked Malaysia and Canada to finish sixth --- a poor performance by a team ranked sixth in the world.
READ | Indian women's hockey team working on mental strength with NeuroTracker
CHANGE OF GUARD
The London debacle cost chief coach Roelant Oltmans his job. The 63-year-old was replaced by his Dutch compatriot Sjoerd Marijne, who moved from the women's team to take up the job. Marijne's entry seems to have fuelled new enthusiasm in the team and the Dutchman was successful in his first assignment — the Asia Cup in Dhaka — as India bagged gold after a decade.
India also avenged their twin defeats to Malaysia earlier in the year and registered their seventh successive win against Pakistan.
The integration of seniors with junior players seems to be bearing fruit.
India started their campaign at the Hockey World League Final in Bhubaneswar with a spirited display against Australia, holding the world champions 1-1, but defeats to England and Germany meant they met Belgium, their nemesis in Rio Olympics, in the quarterfinals. Manpreet and his boys came up with their best performance of the year, overcoming the World No 3 in a shootout after being held 3-3 at the end of 60 minutes.
READ | Pakistan men's hockey coach resigns following team's poor show
India, however, slumped to a 0-1 defeat to Olympic champions Argentina on a soggy Kalinga Stadium turf, unable to adapt to the playing conditions, but came back to quell a depleted Germany in bronze-medal match.
WOMEN CHAMPS AGAIN
The women's team has only two singular successes to talk about — the gold it clinched at the Asia Cup after a gap of 13 years, which booked their ticket to next year's World Cup in London, and an entry into the top 10 in world rankings. The Indian women had some wins against China and Japan but did not find similar success against stronger teams.
They staggered from one event to another, winning gold at the HWL Round 2, but finishing eighth in the HWL Semi-Final, their progress hampered by another change of coach. They started the year with Marijne and ended it under the tutelage of Harendra Singh.
But as 2017 draws to a close, there is still hope for Indian hockey and the results could be better if one manages to harness the abundant talent in the country. 2018 is a big year for hockey with the Commonwealth Games, Asian Games and World Cup in the schedule. The teams will have to work on a 'three-peak' strategy, using their bench strength to make maximum impact in all three majors.
Close Story