'Loss for every fan of WWE,' Wrestling community mourns the death of Hall of Famer Rocky Johnson
WWE issued a statement about Rocky Johnson's death without revealing the reason behind his demise. There has been an outpour of tributes to the former champion.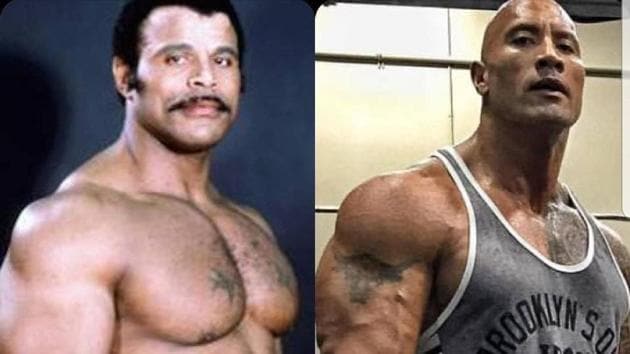 Updated on Aug 26, 2020 09:01 PM IST
Hindustan Times, Delhi |
YASH BHATI
Wrestling lost another legend on Thursday as 75-year-old WWE Hall of Famer Rocky Johnson passed away. Johnson is the father of professional wrestling and Hollywood superstar Dwayne 'The Rock' Johnson. Rocky wrestled in the National Wrestling Alliance (NWA) before coming over to the WWE where he was part of the first black tag team (along with Tony Atlas) to win the World Tag Team Championship in the company (then WWF).
WWE issued a statement about Rocky Johnson's death without revealing the reason behind his demise. There has been an outpour of tributes to the former champion. He was a stalwart of wrestling and will always be revered as a pioneer of the sport.
READ| John Cena provides major update regarding future in WWE
His championship run with Atlas was historic as he opened the door for other coloured wrestlers to stake their claim in the wrestling community. Even after his retirement, Rocky Johnson changed the face of professional wrestling as he trained his son to become a superstar. His son, Dwayne 'The Rock' Johnson, obviously exceeded all expectations and became a transcendent superstar for WWE. Rocky Johnson's passing has left a big hole in the business of professional wrestling and it can bee seen by the amount of tributes that have poured in since his death.
Also Watch | Dwayne Johnson visits giant telescope protest site at Mauna Kea
WWE chairman Vince McMahon, Triple H, Mick Foley, Kevin Nash, 2-time Hall of Famer Booker T and even All Elite Wrestling have come forward and sent their condolences to The Rock's family for the death of a wrestling legend.
"A loss for every fan of @WWE, Rocky Johnson was a barrier-breaking performer. Our thoughts are with his family at this time," tweeted the WWE executive and wrestler Paul "Triple H" Levesque.
'I'm deeply saddened by the loss of WWE Hall of Famer Rocky Johnson, an incredible talent who forged an indelible legacy. My thoughts are with @TheRock and his family,' McMahon said in a tweet.
"So sorry to hear about your Dad. He was always very kind to me. Hung out in Louisville when I was coming back from my torn quad. Laughed and he shared me his knowledge. Again sorry Dwayne," Kevin Nash tweeted to The Rock.
'I am so sorry to hear of the passing of the great Rocky Johnson. Always a gentleman, I always enjoyed talking with him. My deepest condolences to his family, friends, and the fans who loved him. A very sad day for wrestling,' said Mick Foley.
READ | WWE SmackDown to see the return of a three-time world champion
Former wrestler Brian Blair, another 1980s WWE star, revealed that Johnson had complained of an unspecified illness before his death.
"He was just under the weather, he thought he had the flu or something. I said, 'You need to get checked out, Rocky.' He said he'd be OK. Then he missed this Sunday, a few days ago. When I talked to him again, he said he still wasn't feeling good and he still missed church. He still didn't get checked out. I talked to Sheila and she said he was just being stubborn. He died at home, today," said Blair as qouted by Guardian.
After retiring in 1991, Johnson started training his son, Dwayne for a career in professional wrestling.
Close Story