Thais mourn child boxer as funeral held
Thai boxing is hugely popular in the country and many fighters enter the sport at a young age in search of fame and fortune.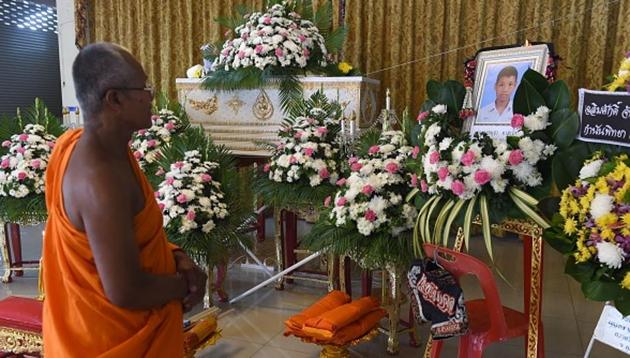 Published on Nov 14, 2018 03:31 PM IST
Samut Prakan, Thailand |
AFP
A child boxer who died after being hit repeatedly in the head during a Muay Thai bout was mourned Wednesday, alongside wreaths and his fighting shorts, as calls mount for a ban on children entering the ring.
Thirteen-year-old Anucha Tasako collapsed after his opponent, who is about the same age, delivered the blows at a charity fight in Samut Prakan province, near Bangkok, on Saturday.
He died later of a brain haemorrhage, according to police, and relatives were grieving beside his coffin at a temple pavilion Wednesday before his body is cremated.
His portrait was perched in the middle of one of many pink and white wreaths.
Those who knew him were sombre but did not seek to cast blame for his death.
"I'm not mad at the referee or the other boy," his uncle Aphichati Wannaphakdi, 59, told AFP on the second day of the funeral. "It happens in sports."
Coach Somsak Deerujijaroen described him as a "clever" boxer with good technique who inspired others.
"Other small boxers look up to him as an idol," he added.
Thai boxing is hugely popular in the country and many fighters enter the sport at a young age in search of fame and fortune.
But the involvement of Thai youngsters -- who sometimes start under 10 years of age in bouts that see kicks and elbows to the head with no protective gear -- has stirred frequent criticism.
More so as the young fighters are often family breadwinners from poor families and matches are subject to frenzied ringside gambling.
Smartphone footage shown by local media captured the grim moment Anucha hit the canvas as assistants quickly rushed into the ring to help the motionless boy, who fought under the alias Phetmongkol Sor Wilaithong.
Domestic media said he had been fighting since he was eight and had competed in more than 150 bouts.
His opponent, Nitikron Sonde, took to Facebook to express his sorrow at the death.
"I regret it," he posted on Tuesday, "but I have to do my duty to win so I can make enough money to sponsor my education."
Neither fighter was wearing protective headgear.
A bill to prevent minors below the age of 12 from taking part is under consideration, and has already received fresh momentum in the aftermath of the death.
The number two in Thailand's junta, Defence Minister Prawit Wongsuwan, expressed condolences and instructed the sports ministry to "to consider the suitability" of the draft bill, a defence ministry spokesperson said in a statement on Wednesday.
Outrage and anger poured in as footage of the young fighter's death spread online, with some arguing the referee could have stepped in to end it sooner.
"He could barely stand. Why didn't the referee stop the fight but let him continue to be hit until he was knocked down," one Thai Facebook user said.
Others defended the practice of starting fighters young.
"I don't agree with the draft law to totally ban boxers who are under 12 years old because 99 percent of the famous Thai boxers and Olympic winners began fighting when they were young," Thai Olympic medalist Tawee Umpornmaha, 59, told AFP, describing the boy's death as an accident.
"I began at 12 with more than 200 fights. The question is do we have proper safety measures? We must give importance to safety measures including field doctors," he said.
Topics
Close Story