President Ram Nath Kovind calls for farm modernisation at 1st convocation of Pusa agriculture university
President of India, Ram Nath Kovind was delivering the convocation address at the first convocation of Dr Rajendra Prasad Central Agricultural University at Pusa (Samastipur), which was created in 2016 by converting the erstwhile Rajendra Agricultural University into a central university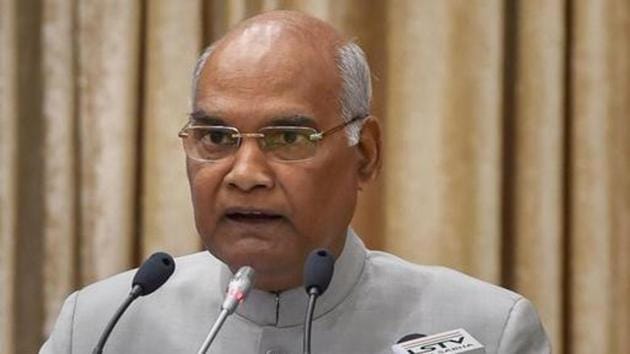 Updated on Nov 16, 2018 08:07 AM IST
President Ram Nath Kovind on Thursday underlined the need to growing modernize agriculture to face the emerging challenges both on the climate and productivity fronts.
He was delivering the convocation address at the first convocation of Dr Rajendra Prasad Central Agricultural University at Pusa (Samastipur), which was created in 2016 by converting the erstwhile Rajendra Agricultural University into a central university.
On the occasion, the President presented gold medals to 33 students. Altogether, 478 students of Ph.D, M.Sc and under-graduate courses were awarded degrees at the convocation
"The university has made significant contribution in boosting crop production in Bihar, which is contributing to better condition of farmers. It is all because of the work you all have done. Maize production in Bihar has increased due to a new breed developed here," he added.
Kovind said that as land was limited, the country today required such crops that could give yield using less water and space. "The demand of today is to make agriculture modern. A number of schemes are running at the centre and state level with this objective in mind. There are sincere efforts being made through digitalization to ensure that the farmers got the right price for their produce. Neem-coated urea has helped farmers," he added.
Kovind also exhorted the university administration to take the students to the birthplace of India's first President Dr Rajendra Prassad to draw inspiration from his personality. Dr Rajendra Prasad's birthplace is in Siwan district.
"With students from 20 states passing out from here and the institution named after the first President, people will ask them wherever they go if they ever saw his birth place," he said, exhorting the passing out students to be creators of jobs and take advantage of government's Mudra scheme.
Kovind also dwelt on his days in Bihar as the governor and recalled the beauty of Chhath festival. "The convocation is taking place just a day after Chhath concluded. "One state that deserves credit for making Chhath festival dedicated to worship of Sun God truly global, it is Bihar," he added.
The President said that he had been witness to the devotion and passion for cleanliness during Chhath. "If the same passion of Biharis for cleanliness, as witnessed during the Chhath festivities, could sustain for all 365 days, Bihar could be a leader in the Swachch Bharat campaign," he added.
Earlier, Bihar chief minister Nitish Kumar highlighted the rapid strides Bihar has made in the field of agriculture in the last decade. "Bihar was considered a laggard state, but now we have been winning agriculture awards for highest productivity. Per hectare productivity of paddy, wheat, maize and other crops has doubled," he added.
In the evening, Kovind will attend the convocation at National Institute of Technology (NIT), Patna.
Close Story