Latest from ram nath kovind
President Ram Nath Kovind, who is on a four-day visit to the Caribbean nation, gifted kits to the Jamaica Cricket Association as a mark of cricket cooperation between India and Jamaica.

The MRSSAB 2020, stressed on the need to verify and regulate the entry of persons to Meghalaya and also to monitor and regulate tenants or any other persons residing in rented houses or any other places in the state apart from the existing provisions of the Principal Act.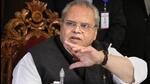 The seven convicts serving life imprisonment are: Murugan, Santhan, A G Perarivalan, Jayakumar, Robert Payas, Ravichandran and Nalini. Rajiv Gandhi was killed in a suicide bomb attack at Sriperumbudur, near here, in May 1991.

Constitutional expert and former secretary to the Lok Sabha and Delhi assembly SK Sharma said the constitutional process demands that another notification be issued for the Act to be implemented, adding that the corporations will need more time to implement assets, staff, areas and liabilities.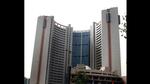 The Bill seeks to update a British-era law to enable police to collect samples of a person's biometric details, such as fingerprints and iris scans, if they have been arrested, detained or placed under preventive detention on charges that attract a jail term of seven years or more.