12-day exposition of Iyengar yoga organised in Pune
Updated on Dec 06, 2018 05:13 PM IST
It is held at the badminton hall at Balewadi stadium where 1,200 students from 53 countries were involved in sessions and will come to an end on December 14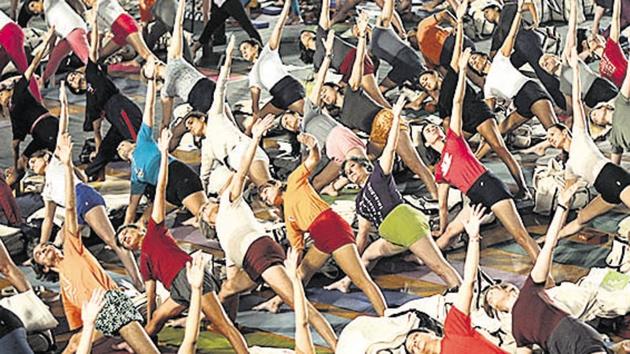 Hindustan Times, Pune |
Prachi Bari
Yogacharya BKS Iyengar brought yoga to the common man. His birth centenary is being celebrated by Ramamani Iyengar memorial yoga institute (RIMYI) on a grand scale in the city.
"Guruji developed many 'yoga props' to make it easy for people to follow yoga," said Geeta Iyengar, Guruji B K S Iyengar's eldest daughter and yoga teacher.
Geeta, her brother Prashant and Abhijata Iyengar ( BKS Iyengar's grand-daughter) explained about the various activities which have been lined up.
"The 12-day exposition of Iyengar Yoga at the badminton hall at Balewadi stadium where 1,200 students from 53 countries were involved in sessions, will come to an end on December 14, Guruji's birthday," said Prashant Iyengar.
"The Iyengars never laid claims on the design of props by Guruji as they felt that yoga is for everyone and all should benefit from it. Yoga mat or curved bench are some of the yoga props developed by Guruji which was also used by Prime Minister Narendra Modi on the occasion of Yoga day," he said.
A biolographical film on Yogacharya BKS Iyengar, a documentary by Jake Clennell on Iyengar, The Man, yoga and the student's journey, a talk by Prashant Iyengar, presentation on the story of yoga props by Abhijata Iyengar and a presentation on the transformation of Bellur, Guruji's hometown, are the events that have been planned for December 13 and 14.
"Guruji's main goal was to spread yoga. The emphasis was on precision and alignment in all postures and hence the use of self-designed props such as wooden gadgets, belts, ropes," said Abhijata Iyengar.
Personalise your news feed. Follow trending topics