Campus connect: Pune students shift gear to paramedical courses
Hindustan Times, Pune |
Ananya Barua
Jun 22, 2018 02:46 PM IST
Experts say there is a dearth of trained medical professionals to support the healthcare industry
Students aspiring to build a career in the health sector are no more bounded by the national eligibility cum entrance test (NEET) scores or limited options in medicine and nursing. Experts in the field revealed that increasing number of students are moving towards alternative courses in the sector.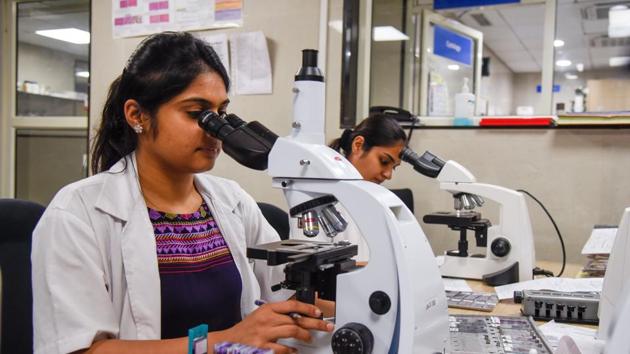 There is an increasing awareness about the courses in nutrition,dietetics and paramedics. Bharati Vidyapeeth(BVP) is one of the educational institutions in the city which has various courses in alternative health sciences. With more than 50 such new courses, the deemed university is planning to build a separate department for the same.
"For the last three decades, we have been majorly concentrating on creating doctors and thus have reached a position where we have an overflow of doctors and many are unemployed. There is a dearth of paramedical staff to support them. As per international standards, there should be at least four trained paramedical staffers to support one doctor, but that situation is far from reality in India. BVP wanted to bridge the gap," said Dr Sanjay Lalwani, dean, faculty of medical sciences.
Bharati Vidyapeeth offers courses in M Sc(medical biotechnology), masters in hospital administration and post graduate in medical laboratory technology apart from courses for dialysis treatment and emergency medicine.
Medha Patwardhan, clinical dietician, Sahyadri Speciality Hospital, says that there are more opportunities in the field of nutrition and dietetics.
"I received instruction in dietetics from Shreemati Nathibai Damodar Thackersey (SNDT) College, over 25 years ago, when the opportunity for the profession was slim. But, now the mentality is changing. People are becoming more conscious about their health and are looking for preventive measures rather than cure. With more opportunities, more specialised courses have come up in the city," said Dr Patwardhan. SNDT provides a B.Sc. course in food science and nutrition.
Bursting the myth around the courses, she added, "Many times students despite their interest in the field do not pursue due to several misconceptions. One of them is that the study of nutrition and dietetics is only associated to weight loss. The idea still persists that only a doctor can tell you what to eat or not. The truth is, the nature of a medical training equips a doctor to point out what not to eat, but not advice on what and how much to eat and its benefits. That is something only a dietitian or a nutritionist can help with. And with health sciences reaching new heights across the globe, more countries are realising the need for such professionals."
Symbiosis School of Biological Sciences (SSBS) is another prominent institution which offers post graduate degree course in biotechnology and nutrition dietetics. Symbiosis Skills and Open University offers a degree course in beauty and wellness – the firstof its kind in the sector.