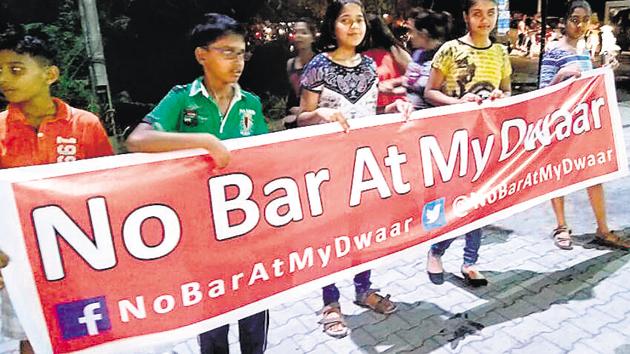 Community battles liquor bars at Baner, Pune
Loud voices,unheard still : The community's crusade since 2016, has seen limited success. One of their main battles is against noise pollution caused by rooftop bars
Hindustan Times,Pune | By Prachi Bari
UPDATED ON APR 06, 2018 03:51 PM IST
Weekends get busy for residents of Pallod Farms phase 1, Baner , not due to their personal commitment but by continuously calling the police station.
Their grievances centre around the noise from the two roof-top bars in the locality, namely Agent Jack's and Teddy Boy, both located on Baner Road. While Teddy Boy is located on the top floor of the Deron Heights commercial complex, Agent Jack's is across the road, at Devideep Housing Society.
The Pallod Farms community of residents has been complaining about nuisance from the bar and its related activity ever since December 2016. Things were worse then, as compared to now, when as many as five bars were located in the same building (Deron Heights)- Effingut Brewerkz, Agent Jack's Bar, The Big Chill, Teddy Boy and Irish Village. While Big Chill closed down, Agent Jack's moved to another location across Baner road.
Dayanand Dhome, police inspector, Chatuhshringi police station confirmed that there had been instances, when noise levels were high and the music went on beyond midnight. "Valentine's Day and Women's Day saw a lot of boisterous parties in both the terrace pubs. As soon as we reached the venue, they stopped the music," he said. Every time a resident sends a message or makes a phone call, beat marshals make a round to the pubs to verify, he said.
Apart from loud music from some of the pubs, there are issues of heavy traffic congestion on the narrow road leading to bungalows and housing societies such as Wellworth Celina, Runwal Sarowar, Runwal Surabhi, Runwal Samiksha, La Chapelle, Manhattan and Tulips apartments. On one occasion, some brave residents chased and nabbed a druggie in a lane close to a housing society, and handed him over to the police. On another occasion, the community was stunned with the news of a dead body of a bar employee seen in a ditch in the area.
The distraction caused by noise pollution angers the residents, especially, when it is exam time for children. They have campaigned fiercely about these problems over the past months with a human chain, signature campaign, Facebook page and twitter handle (No Bar at my Dwaar). The residents have repeatedly met all the authorities in the city such as district collector Saurabh Rao, municipal commissioner Kunal Kumar, civic officials, police commissioner Rashmi Shukla, Chatuhshrungi police station officials, and MLAs such as Medha Kulkarni and guardian minister Girish Bapat, literally begging for intervention.
Rao and Kulkarni responded positively to their complaints and their first big victory happened when two of the five bars were ordered to close down (see box).
While the Baner Community was grateful for this action, the bars secured permissions once again and complaints of noise pollution,crowding of people and vehicles on the narrow road to their societies, continued.
"We have approached each and every pub owner and even submitted a list of problems like parking issues and loud music as well as bad influences hovering around the premises." We have nothing against the pub owners but they should at least listen to our woes. All we want is an end to the loud music and these bad practices in a residential zone," said one of the agitated residents who did not want to be identified.
The residents also got PMC to get the licenses and No Objection Certificate (NOC) from the Fire Brigade, checked.
"We have written to the PMC 14 times since November last year and to Chief Minister 10 times but no reply has been received yet," said a frustrated resident living in La Chapelle Society directly behind Deron Heights.
"The noise from Agent Jack's seems to have amplified ever since they went across the road. It is unbearable to hear loud hooting, and music played till 1 am over the weekends," a resident from Celina said.
Along with the noise pollution, the residents worry about the crowding around these bars by patrons, bouncers and off duty restaurant employees. The crowds of patrons, some of them totally drunk gathers late at night creating noise and traffic congestion," a resident pointed out.
"Our women and children can't move out for a stroll in the evenings anymore," said another resident, stating that eight to nine phone calls and two written complaints were made to the Chaturshingi police station in the last few months. "Our peace of mind has been stolen," a resident pointed out.
They continue to remain determined in their effort to combat the noise pollution and restore the peace and serenity of their neighbourhood.
Close