Katraj zoo to begin breeding programme for Indian giant squirrels in July
Hindustan Times, Pune |
, Pune
Prachi Bari
Jun 21, 2018 04:34 PM IST
The squirrel, which is the state animal of Maharashtra, is an endangered species.
The Rajiv Gandhi Zoological Park and Research Centre will begin the exclusive conservation breeding programme of Indian giant squirrel which is an endangered species and also, the state animal of Maharashtra, from July. The Indian giant squirel is otherwise known as the Malabar Giant squirrel or 'Shekru'.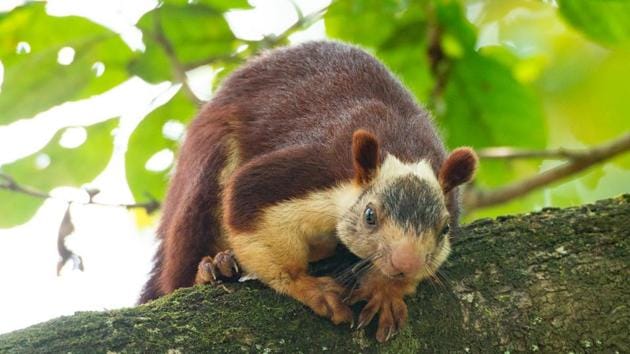 " This programme will help us understand the breeding pattern, lifestyle and lifespan of the Indian giant squirrel," said Dr Rajkumar Jadhav, director. Rajiv Gandhi Zoological Park and Research Centre.
The central zoo authority has identified 73 endangered species across India for the exclusive conservation breeding programme. The programme began across zoos in India in 2008. The breeding for larger cats like Asiatic lion, Royal Bengal tiger and Cheetah, and smaller cats like leopard and spotted cats have begun in some of the schools.
Last year, the zoo began its trial on a pair of Indian giant squirrel and they gave birth to two young ones, within a span of a year. The zoo authorities are confident about rearing the new squirrels. A new cage of around 125 square metres with 25 feet height is being set up for the breeding programme. " We have a total of 5 Indian giant squirrels, including the young ones.The newly-born young ones are female," said Jadhav.
The zoo authorities added that they will now be able to work on the squirrels in a scientific manner in a separate breeding facility and they will be able to assess whether the squirrels are compatible and are able to adjust to the climatic conditions.
Conservation breeding is being carried out to restore the population of wild animal species. The animals selected for conservation breeding will not be displayed and will be kept in isolated places. They need special care.
"It is an honour to be selected for such a breeding programme where we are also contributing towards an important conservation. This kind of programme will play a vital role in studying about these endangered animals," said Jadhav.