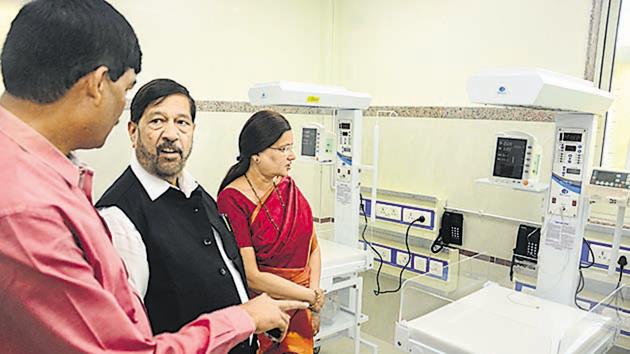 PMC-run hospitals get two more neonatal intensive care units
 Each of the NICU units have 14 beds with state-of-the-art neonatal care facilities.
UPDATED ON MAY 06, 2018 03:21 PM IST
Rajiv Gandhi Municipal Hospital in Yerawada and Chandumama Sonawane Hospital in Bhavani peth on Saturday opened their newly set up neonatal intensive care units (NICU) under public private partnership model with the Mukul Madhav Foundation and the Pune Municipal Corporation (PMC). Each of the NICU units have 14 beds with state-of-the-art neonatal care facilities.
This is the fifth NICU to come up in municipal hospitals across the city and there are two more set to open this year, at Dalvi Hospital and Kamla Nehru Hospital. They will be maintained and monitored by both the parties.
The units were inaugurated by Girish Bapat, guardian minister; Mukta Tilak, mayor; Saurabh Rao, PMC commissioner; Ritu Chhabria, managing trustee, Mukul Madhav Foundation and director Finolex Industries Limited; and Prakash Chhabria, executive chairman, Finolex Industries Limited.
The units are in the memory of Prahlad Chhabria, founder of Finolex and co-founder of Mukul Madhav Foundation and his wife, Mohini Chhabria.
The PMC and Mukul Madhav Foundation have spent Rs 3 crore each under the memorandum of understanding (MOU) which Mukul Madhav Foundation and PMC signed to undertake the projects in the city. In April 2018, a 59-bed NICU was also opened at the Sassoon General Hospital in collaboration with the Dagdusheth Halwai Ganapati Trust.
"We agreed to the MOU only after PMC agreed to have specialised training for hospital staff for three months. The PMC has also hired a neonatologist before we started building the units. These were our prerequisites before we signed the MOU," said Ritu Chhabria.
The units are a life saver for those who cannot afford expensive private medical care. The units have advanced equipments like radiant warmers, phototherapy machines, oxygen cylinders and bubble continuous positive airway pressure (CPAP) machines among others.
"These facilities are to help people who come from a poor background. We are trying to improve people's access to proper neonatal medical facilities," said Girish Bapat.
Close