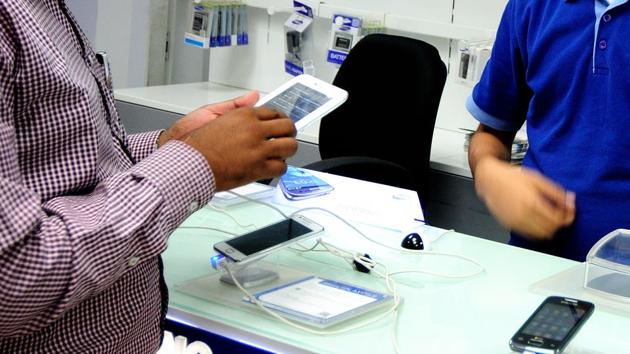 Pune consumer forum direct insurance mediators to pay Rs 10,000 to complainant over deficiency in service
YSKA Gadget Secure and Leehan Retail Private Limited were asked to pay compensation for not addressing a customer's insurance claim after his phone was lost.
Hindustan Times, Pune | By Nadeem Inamdar
, Pune
UPDATED ON MAY 02, 2018 04:22 PM IST
The Pune district consumer forum has directed an insurance mediator, SYSKA Gadget Secure and Leehan Retail Private Limited, to pay a compensation of Rs 10,000 to a complainant on account of deficiency in service. The complainant, identified as Sudip Mahesh Kenjalkar, is a lawyer by profession and had filed a complaint with the district consumer forum under Section 12 of Consumer Protection Act 1986.
The complaint stated that he had bought a cellphone, a Samsung Grand Prime Mobile 4G 531, on September 12, 2015. He was on his way to Giridhar chowk from Sant Namdev School at around 3.45am on November 29, 2015 when the mobile accidentally fell down during transit and was lost. Kenjalkar then lodged a case with the Swargate police station regarding the incident and informed Syska about the issue on the same day. Syska directed Kenjalkar to approach Leehan Retails Private Limited wherein he fulfilled all the criterion and submitted the required documents accordingly.On December 2, 2015, he got a reply stating "Your claim 1511304402 does not meet the eligibility criteria as per the terms and conditions. Please feel free to contact us at toll free no 1800 300 27090". Kenjalkar contacted the opponent parties a number of times, but his claim was not given, the complaint stated.
He then lodged a complaint with the consumer forum against the private insurance claim providers. Both Syska and Leehan Retail Private Ltd submitted before the forum that they were mere mediators while the insurance policy was issued by New India Assurance Company Ltd and that the complainant is responsible for his negligence. Insurance is given for theft, damage due to fire and damage to software. In this case, the complainant lost the mobile as it fell down from his pocket due to negligence. New India Assurance has rejected the claim, they submitted.
The forum came to the conclusion that Kenjalkar had paid additional money to Syska Gadget Secure, blanket cover for devices as insurance cover and had accepted the fees to provide security cover. The forum then issued the order directing Syska and Leehan Retail Private Limited to jointly pay Rs 10,000 within 45 days to the complainant or else pay 12 percent extra thereafter. Besides, they were directed to pay Rs 2,000 separately towards expenses incurred by Kenjalkar. The order was issued by the forum comprising members YD Shinde, OG Patil and Kshitija Kulkarni, on April 24.
Close