Pune museum boasts Maratha craftsmanship, heritage
Jun 29, 2017 03:26 PM IST
The Mastani Mahal rebuild in the premises of this Museum depicts the story of love between Bajirao Peshwa I and his beloved Mastani
Situated off Bajirao Road, Raja Dinkar Kelkar Museum is a heritage and history trove of 21,000 artefacts collected by Padmashree late Dr DG Kelkar (1896-1990), fondly known as 'kaka'.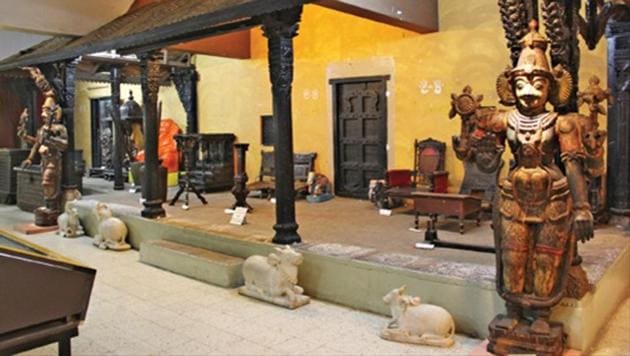 The museum has 2,500 of its total artefacts on display and is built in memory of Kelkar's son, Raja. It is currently managed by Sudhanva Ranade, director of the museum. On display are 14th century sculptures, silver, gold and ivory ornaments, musical instruments and objects that depict Indian artisan skills.
Stay tuned with breaking news on HT Channel on Facebook.
Join Now
If the film Bajirao Mastani intrigued you on the life of Mastani, then a visit to this place is a must. It has a section dedicated to the beauty, which has items, draperies and the likes that she used everyday. The Mastani Mahal rebuild in the premises of this Museum depicts the story of love between Bajirao Peshwa I and his beloved Mastani.
The collection from this museum reflects the elegance of Indian craftsmanship as well the vivid imagination of the artists. In the coming months, the museum will be moved to Bavdhan, Mulshi Taluka. Currently it houses every day artefacts, which includes lamps, palanquins, carved woodwork, tin ware, combs, bowls, stones, musical instruments and miniature paintings.
A visual reflection of the history, heritage and daily duties in the earlier years, Kelkar museum is unable to display many of their artefacts due to lack of space in their three-storeyed building. This includes the Peshwai Mirror with Meena artwork, which belonged to Anandibai, the wife of Peshwa Raghunathrao (or Raghobadada).
Rampanchayatan, the Panchayatan puja is categorised into five types for the five presiding deities corresponding to the five elements of nature.
Ganjifa was a popular game of cards that originated in Persia and was played regularly by the Mughal emperors. Mughal era coins, Bajirao Peshwa I's letter in Modi script, dowry chest from the third battle of Panipat and Chitrakathi paintings can also be seen in the museum.
What: A museum with over 21000 historical artefacts including 14th century sculptures, silver, gold and ivory ornaments and musical instruments.
When: 10 am - 5:30 pm
Where: "Kamal Kunj", Natu Baug, Off. Bajirao Road, 1377-78, Shukrawar Peth, Pune - 411 002
Entry Fee: ₹15 per person