Rising pollutants turn Pune's Mutha into a 'dead' river
Updated on Jan 18, 2018 02:56 PM IST
According to data released by Pune Municipal Corporation's (PMC) environment department, constantly rising pollution levels since 2012 have now transformed Mutha into a 'dead' river.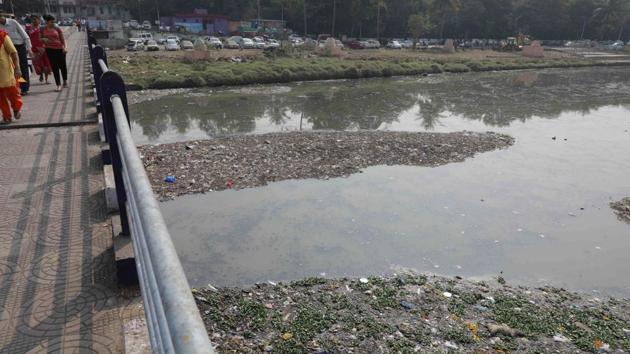 Hindustan Times, Pune |
, Pune
Shrinivas Deshpande
Pollution in river Mutha has been consistently rising and has reached alarming levels turning the river into a dead river body at many stretches.
Data released by Pune Municipal Corporation (PMC) environment department has recorded a consistent rise in levels of chemical oxygen demand (COD), biochemical oxygen demand (BOD) and dissolved oxygen (DO) of Mutha river since 2012.
According to experts, BOD and COD are the main parameters analysed to indicate the degree of pollution in the river. While BOD is the measurement of the amount of oxygen required biologically to decompose organic matter under aerobic condition, COD is the measurement of total oxygen required to oxidize all biologically available and inert organic matter into carbon dioxide and water.
While low BOD is an indicator of good quality water, high BOD indicates polluted water.
According to scholars, while a water supply with a BOD level of 3-5 parts per million (ppm) is considered moderately clean, water with a BOD level of 6-9 ppm is considered "somewhat polluted". High dissolved oxygen (DO) is also harmful to aquatic life. Experts say that "fish in waters containing excessive dissolved gases may suffer from 'gas bubble disease'".
The water quality was monitored and analyzed by PMC at five different locations in city. Data reveals that BOD level of water at Vitthalwadi increased from 18 mg/l in 2012 to 52.85 mg/l in 2017 even as minimum acceptable level of BOD stood at 30 mg/l.
Similarly, COD levels rose from 67 mg/l to 168.60 mg/l in 2017, with the minimum acceptable limit being 150 mg/l. The DO level rose from 2.6 mg/l in 2012 to 3.19 mg/l in 2017.
The data was based on the monitoring and analysis of water quality at Erandwane, Mhatre bridge, Joshi bridge and Railway bridge.
Speaking to this newspaper, Mangesh Dighe, environment officer of the Pune Municipal Corporation (PMC), said that the rising population of the city was causing this high pollution. Presently, 75% of raw sewage was being treated. The river pollution would be curtailed to a large extent once the ₹1,000-crore Mula Mutha River Development project is completed, he said.
Sunil Joshi, a conservationist working in the area of river rejuvenation, said that the BOD and COD levels of the river water were rising because the Mutha river is not flowing. "The civic body has constructed many cement river banks,which have disturbed the natural flow of river. Simultaneously, we are responsible for mixing non-treated sewage water into the river basin. Also, many industrial units are diverting their pollutants to water bodies, which increases river pollution," he said.
According to Shailaja Deshpande, director of Jeevitnadi-Living River Foundation, "The Mutha is almost a dead river because it is not flowing. Her flow is dependent upon the will of the irrigation department." The citizens are also responsible for the high pollution through the use of many detergents and cleaning products, she said. Deshpande noted that these chemical detergents were harmful for a marine biodiversity even as the PMC had failed to treat 100% sewage water.
SUGGESTED BOX
Area Year BOD COD DO
( mg/l) ( mg/l) ( mg/l)
Vitthalwadi 2012 18 67 2.6
2013 24 75 2.7
2014 25 90 2.8
2015 28 105 2.7
2016 38 130 2.7
2017 52.85 168.60 3.19
Erandwane 2012 20 67 1.2
2013 32 120 2.1
2014 27 80 2.3
2015 39 100 1.6
2016 43 150 2.1
2017 47.10 142.77 3.0
Mhatre Bridge 2012 19 65 1.8
2013 28 105 2.6
2014 26 90 2.9
2015 34 95 2.3
2016 50 170 2.3
2017 47.73 159.97 3.25
Joshi Bridge 2012 22 75 0.9
2013 16 55 1.9
2014 21 70 2.1
2015 40 80 1.5
2016 49 140 2.7
2017 35.80 121.5 3.31
Railway Bridge 2012 18 65 1.3
2013 42 135 2.5
2014 48 136 2.4
2015 42 135 1.5
2016 49 170 2.6
2017 47.95 146 3.52
Tolarable limit of BOD- 30mg/l
Tolarable limit of COD- 150mg/l
Tolarable limit of DO - 2 mg/l
Personalise your news feed. Follow trending topics