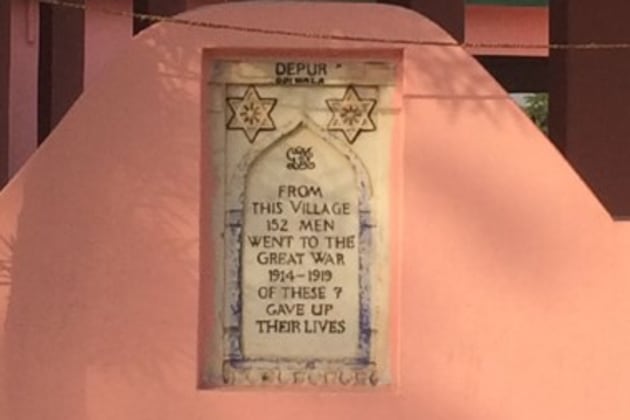 152 WW-1 soldiers from Hoshiarpur village remain unsung heroes
The soldiers who fought the war and laid down their lives were immortalised by outsiders when a memorial was installed but for their own people, they remain unsung heroes.
Hindustan Times, Jalandhar | By Aakanksha N Bhardwaj
, Jalandhar
UPDATED ON MAY 07, 2017 08:22 PM IST
On a colourful gate that leads to Depur village, around 65km from the Hoshiarpur district headquarters, is written a message: 'Pranaam shaheeda nu (salute to martyrs) - First World War 1914.'
A few metres ahead, another memorial on the temple's wall explains the importance of that message. 'From this village, 152 men went to The Great War (1914-1919). Of these, seven gave up their lives,' is engraved on white marble.
This correspondent reached the village in search of tales of bravery. But even as the memorial remains as a vestige of the British rule, it soon became clear that the people have long forgotten the martyrs.
Some elderly people, discussing their daily problems sitting in the shade of a banyan tree, were clueless when asked about the war heroes.
On seeing an outsider, curiosity prompted others to join in, but none was of any help. Some locals directed this correspondent to the sarpanch's house, saying, "Unhe to pata hi hoga (She must be knowing)."
Sarpanch Anju Bala too drew a blank, and so did her husband, Sanjeev Kumar, and a septuagenarian man who was sitting with them. "Sau saal pehele da puch rahe ho, kinnu pata hovega (You are enquiring about an incident that took place 100 years ago. Who would be knowing?" said Sanjeev.
Finally, this correspondent struck some luck, thanks to a barber whose streetside shop was located close to the gate. He said it was former sarpanch Ratan Lal who got the message inscribed on the village gate in 1996 and also shifted the memorial from a lake, where it was not visible, to the temple wall.
Even as Hoshiarpur Sainik Board failed to provide any further information, Colonel Hardyal Singh, a veteran from the village, confirmed the memorial was built by the erstwhile British rulers.
Just like these unsung heroes, the village too has faced neglect. Having more than 7,000 votes, it doesn't even have a high school. The area is bereft of even basic amenities, as there is no primary health centre in the village.
"In the absence of any industry, a huge population of the village is still dependent on farming, making the livelihood difficult," said Charanjit Singh, a farmer.
Rampant unemployment remains a concern, with most parents this correspondent met saying they were afraid of the youths falling prey to anti-social elements.
Close