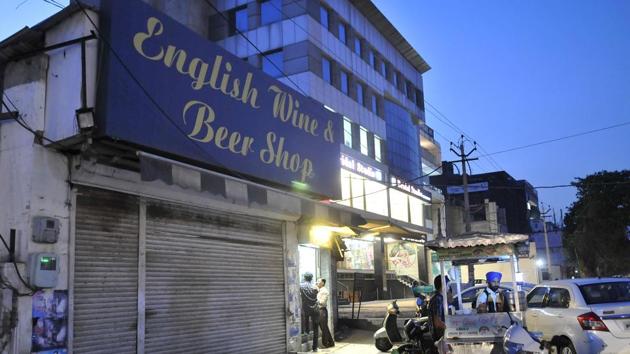 Bar owners, staff in low spirits, no dip in liquor sale in Punjab
FEW TAKERS OF LICENCE: Only about a third of the 150-­odd bars in hotels and restaurants dotting the state have got their licences renewed, but booze lovers are sourcing their quota from other outlets
Hindustan Times, Chandigarh | By HT Correspondents
, Chandigarh
UPDATED ON MAY 02, 2017 12:07 PM IST
The Supreme Court's order banning sale and serving of liquor 500 metres from highways has left bar owners and their employees in Punjab in low spirits.
Only about a third of the 150-odd bars in hotels and restaurants dotting the state have got their licences renewed. The others have been hit by the highway liquor ban that came into effect from April 1, leading to loss of jobs for employees. But there is no dip in liquor consumption in the state, with booze lovers clinking glasses. They have made a quick switch, sourcing their quota from other establishments.
Deputy excise and taxation commissioner Gurtej Singh said 1,500 of the 6,000-odd vends were affected by the limit prescribed by the apex court, but they have been relocated and auctioned as per the policy.
"The number of bar licences has come down considerably with just 40-50 of the 150 owners of hotels and restaurants seeking such licences," he said. The department is studying the liquor sale pattern, but it would take some time.
The state government's decision to de-notify some stretches of eight state highway and six national highways passing through different cities and towns has brought cheer to some, but many are still struggling.
HIT HARD, LUDHIANA HOTELS, RESTAURANTS LAY OFF 30% STAFF
The liquor ban has hit 42 of the 117 registered hotels and restaurants – most of them located on Ferozepur Road — in the city. With a huge dip in monthly sales, some of them have laid off 30% of their staff, besides imposing a cut in salaries of the remaining employees. Another immediate measure is to cut back on operational expenses. The order has left such establishments, bulk of whose revenues came from liquor sales, staring at a gloomy future. Amarveer Singh, general secretary of Hotel and Restaurants Association of Ludhiana, said the relocation of such ventures is not feasible. "Already, at least four restaurant owners who had recently ventured into the industry have shut their operations. Every hotelier or restaurant owner is curtailing his expenses and running the establishment has become difficult. If the ban persists, it is only a matter of few more months before several popular outlets down their shutters on permanent basis," he said.
HOTELIERS LOOK FOR HELP FROM STATE GOVT
About 90 marriage palaces and seven bars in prominent restaurants and hotels have got their liquor licences. These include Radisson hotel and a restaurant named 'Sarhad'. "The guidelines are being followed strictly. Their licences have not been renewed. Though a review is being done on marriage palace, we are not taking any chances," a senior excise official said. Rajan Gill, managing director of Radisson at Amritsar, termed the present situation as detrimental to the hospitality industry. "The state government must intervene and help us," he said.
Restaurateur Aman Jaspal said: "I feel it is unfair to equate restaurants and hotels with liquor vends. There is a huge difference between the two in terms of investment. The government must find a way-out."
BARS SHUT, BOOZE LOVERS CARRY BOTTLES TO 'AHATAS'
Two popular clubs – Civil Lines Club and Dune's Club – and 15 restaurants are among the establishments hit by the highway liquor ban in Bathinda. There has been a dip in footfalls at many of these hangouts.
The scenario is not any different in Moga, which lies in the NRI region, where the licences of five hotels and restaurants including Taj and Kingdon, have not been renewed, besides the famous Gold Coast Club Resort. The bookings for marriage functions and parties have seen a drastic decline at such places.
But not everyone seems to have been affected. The ban has led the booze lovers to bring their own bottles at many 'ahatas' or erstwhile bar venues in towns like Muktsar, Baghapurana, Kotkapura, Jaito, Fazilka and Abohar. All these towns in the south of Punjab lie on different state and national highways.
GOVT ORDER BRINGS RELIEF, BUT BARS STILL NOT OPEN
The decision of the state government to de-notify bypass stretches had brought relief for owners of hotels and bars situated on national and state highways. However, bars located on situated on NH-64 (Bathinda-Zirakpur) road have remained shut so far. "We are waiting for formal notification regarding de-notification of bypass stretches to restart the bars," said Gurmukh Singh Dhillon, president of Hotel Association of Patiala.
He said the establishments hit by the order have trimmed their work force to cut costs.
Close