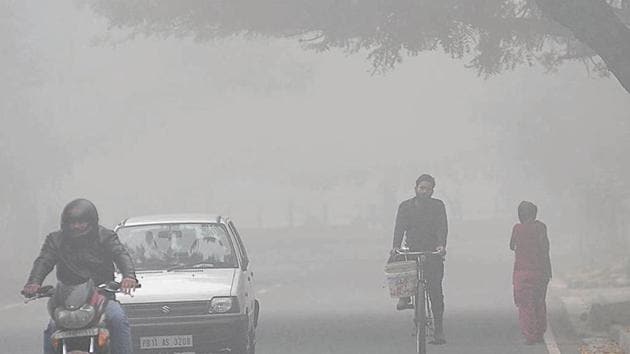 Chandigarh shivers as day temperature drops to 14.5°C; mercury to drop further, says MeT
The morning Shatabdi from Delhi, which was nine hours late on Tuesday, was delayed by two hours on Wednesday
UPDATED ON JAN 04, 2018 09:38 AM IST
The day temperature dipped to 14.5°C on Wednesday, as dense fog continued to engulf the tricity. Six notches below normal, the maximum temperature has come down by four degrees in the past two days.
Meanwhile, fog continued to disrupt both air and rail operations for third consecutive day.
The morning Shatabdi from Delhi, which was nine hours late on Tuesday, was delayed by two hours on Wednesday. In all, 14 trains were running behind schedule at the Chandigarh railway station, with Kalka Mail delayed by over 18 hours.
13 flights delayed
Although no flight was cancelled, 13 were delayed as operations could resume at the Chandigarh airport after 12pm because of low visibility in the morning.
All flights of Jet Airways were behind schedule throughout the day. Its Jaipur flight left at 2pm, after a delay of three hours, and Mumbai flight was two hours late from its scheduled departure at 12.25pm.
Air India's Delhi flight at 12.50pm left after 2pm, Spicejet's 12pm Srinagar flight departed at 1.40pm and its Delhi flight too took off two hours late. Indigo's Dubai flight landed an hour and a half late at 12.30pm.
The airport spokesperson said the situation was much better in comparison to the past two days. As many as nine flights were cancelled on Monday and four were grounded on Tuesday. "All passengers are advised to check their flight status with the respective airlines before reaching the airport," he said
Mercury to drop further
Meanwhile, the night temperature in Chandigarh has been hovering around 7°C to 8°C. The minimum temperature recorded on Tuesday night was 7°C, a notch above normal. "The day and night temperature will gradually fall by one to two degree in the coming days," said Surender Paul, director of the meteorological department's local unit. "There is no possibility of rain in near future, but cold wave condition will continue to prevail."
Paul said moderate to dense fog will continue to engulf the city for the next three days as well, especially during mornings and evenings.
Close