Irom Sharmila wants no one to fast like her: 'Need to enter the system'
Updated on Sep 29, 2016 08:10 PM IST
Activist Irom Sharmila wants no one to fast like she did "but stay with your cause with dedication, sincerity and perseverance". Now ready to fight the Manipur assembly polls due early next year, she said in Chandigarh on Wednesday, "I would rather have won hearts of the people by offering myself, my love and kindness, my positivity and my selflessness."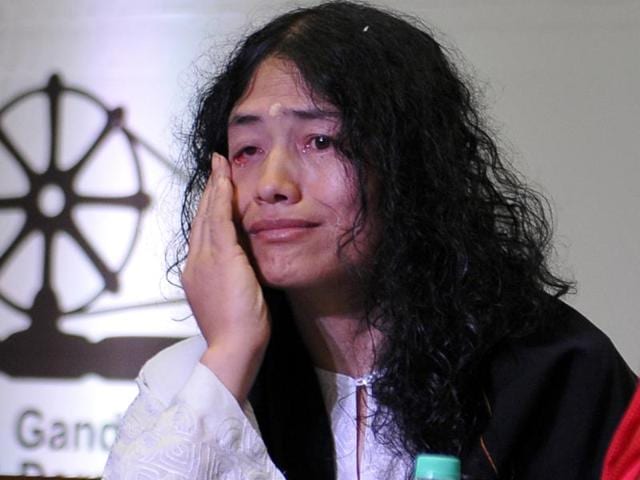 Activist Irom Sharmila wants no one to fast like she did "but stay with your cause with dedication, sincerity and perseverance". Now ready to fight the Manipur assembly polls due early next year, she said in Chandigarh on Wednesday, "I would rather have won hearts of the people by offering myself, my love and kindness, my positivity and my selflessness."
Sharmila, 44, ended her 16-year-fast against the Armed Forces (Special Powers) Act or AFSPA last month and said she wants to the chief minister of Manipur to be able to fight against the "draconian" law from within the system. On Wednesday, she was in Chandigarh to inaugurate the 11th annual Global Peace Festival being organised by the NGO Yuvsatta.
Also read | Were told we won't return alive, say Pak women, still travel to India
For her electoral prospects, she said she wants "moral support" from Aam Aadmi Party (AAP) chief Arvind Kejriwal and his followers "to light a new fire".
Asked if she has met her mother as she had vowed not to meet her until AFSPA is repealed, she said, "I had happened to meet her eventually, at a hospital for five minutes." But Sharmila, who is staying in an ashram in Imphal, has "not yet planned to go back home".
For a message to the youth, she said, "I want to see the youth as youth, and not as girls or boys. I want to see everybody as humanity. We really need to know ourselves: who I am, why and how I am here. Self-realisation should be there among the youth, and self-consciousness is a must."
But, do attacks such as the one recently in Uri (J&K) where 18 soldiers were killed change her stance on AFSPA?
She only said, "The real need is intervention in the administrative system which is governed by the democratic representatives. We cannot remain negligent about the system in our society. Why should we depend on the government? We are humans with malleable minds; every problem can be solved like family matters."
While addressing the gathering, she turned emotional and broke down as she talked about influencing the youth, "a lack of right leadership and connectivity between the leaders and the people".
'Need moral support from Kejriwal'
Irom Sharmila is seeking "moral support" of the Aam Aadmi Party (AAP) as she gears up to contest the Manipur assembly elections in 2017. For reasons, she cites AAP convener and Delhi chief minister "Arvind Kejriwal's ability to win the elections with the force of determination and real politics". Talking about her meeting with Kejriwal in Delhi on Tuesday, Sharmila said, "It was a friendly meeting. Before contesting elections, others' advice is really important. But I want to go ahead with this struggle with my conscience, not with others' influence." Sharmila has stated that she will soon be forming a new regional party and wants to be CM of Manipur. "We do not want to attach with any other party. Our interests, our shortages are based on our mindset. We'll have to form a new party inclusive of different sections of society."
Personalise your news feed. Follow trending topics