Illegal sand mining rampant in Tarn Taran, Amritsar
Hindustan Times, Amritsar |
, Tarn Taran
Anil Sharma
Nov 19, 2017 12:04 PM IST
Staff crunch, political patronage has lead to spike in the illegal activity; deputy commissioner says raids on to nab accused.
The illegal sand mining incidents have become rampant in Beas river bed falling in Tarn Taran and Amritsar districts.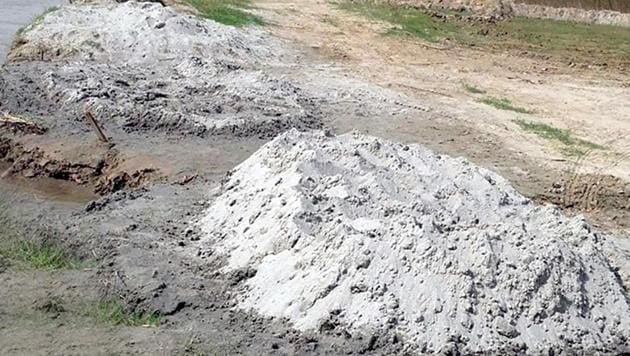 An officer on the condition of anonymity said, "Staff crunch and patronage of local political leaders has increased the illegal sand mining practice."
"I work with the state industries department and have been given additional charge of a mining officer. I was not alloted any assistant guard and Indian Reserve Battalion (IRB) personnels. As per procedure, five IRB guards should be assisting during the time of raid," he said. "How can I only stop illegal mining in my area," said the officer.
He admitted that the practice existed in Sheron Baga, Budha Theh and Kot Mehtab villages in Baba Bakala constituency in Amritsar, and Blojla, Gagrewal, Vaironwal, Dhunda, Mundapind etc villages in Tarn Taran district.
He said, "Mining officers put in best efforts to stop the excavation but we are pressurised politically.I received an ultimatum of 15 days to stop intervention in the matter or be ready for transfer." He said, "After the change in guard in the state, only the sand mafia faces have changed."
"In last months, the mafia unsuccessfully tried twice to excavate sand in Tarn Taran district.I also have a tip off about a third attempt," he said.
"Small mafia groups excavate the sand on daily basis. Even FIRs were registered by names, but the local police have not been arresting them or confiscating their vehicles, boats, tractor-trollies etc," he said.
The officer said, "There are eight mining quarries in the district but only one has been auctioned which will also be closed soon as the contractor has not paid a second instalment."
Deputy commissioner (DC) Pardeep Kumar Sabharwal said, "We are conducting regular raids to nab the accused. Teams have been made consistency wise for the same."
"I will direct senior superintendent of police (SSP) Tarn Taran to take strict action if anyone is found excavating sand from the river," he said.
Meanwhile, former Akali MLA Khadoor Sahib Ravinder Singh Barhampura said, "Every night, scores of trucks and trolleys are found commuting on main roads of the district over-loaded with sand, but no one is there to put a check on malpractices."
During the assemble elections, the Congress had used it a major poll plank to curb illegal sand mining and provide sand on cheap prices in the state. Before assembly polls, and was available at ₹1,200 to ₹1,500 per 100 cubic feet but now the prices of sand are in between ₹2,500 to ₹3,000.