Canadian politician Jagmeet Singh accuses India of interfering in campaign to head party
Jul 16, 2017 11:15 AM IST
Jagmeet Singh, a Canadian legislator who was denied an Indian visa in 2013, has accused the Indian government of trying to undermine his campaign to become the next head of the New Democratic Party.
Indo-Canadian politician Jagmeet Singh, who was denied an Indian visa three years ago, has alleged that the Indian government may be attempting to undermine his campaign to become the next leader of Canada's New Democratic Party (NDP).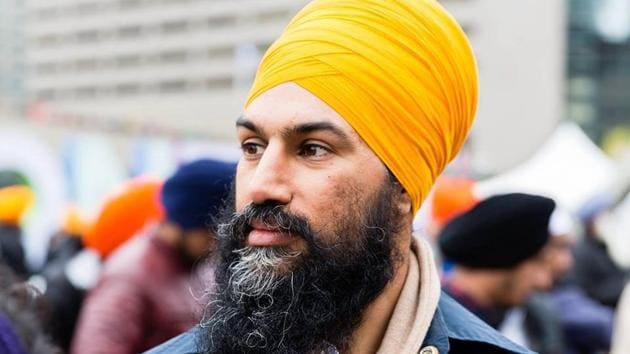 While Singh has emerged as a viable candidate for the leadership of the national party, he has had a difficult relationship with the Indian government.
This has come to the fore in recent days, as he told the Canadian national daily, The Globe and Mail, that his supporters had informed him "that figures with links to the Indian high commission in Ottawa" were trying to use their influence to prevent members of the community from contributing to his campaign or backing him.
He made a similar statement to the Vancouver weekly, The Georgia Straight, that members of the community were "often discouraged from participating in his fundraising events". That article said Singh noted that "some people who had earlier shown interest in donating money to his campaign later changed their minds after receiving some kind of pressure".
It quoted him as saying: "I am still trying to get as many witnesses as I can to prove this so that an appropriate action can be taken."
Queries in this regard sent to his campaign did not receive a response. There was no response to the allegations from the Indian government.
Singh, a member of the Ontario Provincial Parliament, was denied a visa to travel to India in late 2013. He also introduced a motion in the Ontario Assembly in 2016 for the 1984 anti-Sikh riots in India to be termed "genocide".
While that motion failed, a year later, a similar motion was successfully moved by a member of the ruling Liberal Party of Ontario and Singh was critical of India and its government during the debate that ensued.
He has made his views on India apparent during the campaign as well. In an official statement issued on the anniversary of Operation Bluestar this year, he stated this was the day when "the government of India initiated a genocidal campaign against the Sikh minority".
That statement went on to add, "The Indian military killed thousands of innocent people in just one day. This genocide continued for the next twenty years. Across Punjab, Sikh youth disappeared, torture was rampant, and Sikhs endured relentless state-sanctioned terrorism."
He described that episode as an "attempt to extinguish the Sikh community".