Markfed's exports take a hit as saag loses flavour abroad
Among all, the ready-to-eat Sohna brand saag products took the maximum hit, with orders coming down from 20 lakh cans to 15 lakh cans.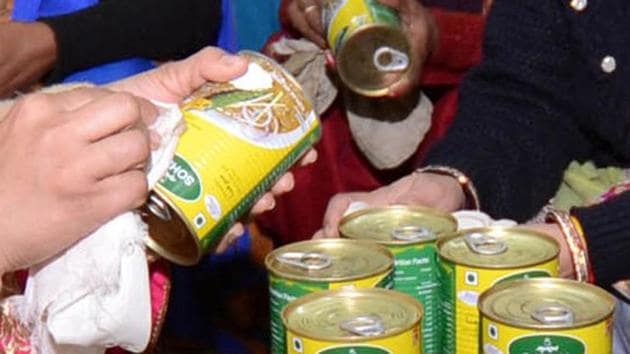 Updated on May 18, 2018 09:53 AM IST
Punjab's marketing cooperative Markfed has lost export orders of sarson da saag, dal makhni, rajmah, murabbas, pickles, mustard oil, and premium basmati rice by 28% to various countries, particularly the United Kingdom, Australia, Qatar and UAE.
The reasons range from change in import policy and ban on certain products in some of these countries to distribution hiccups in others.
The total export of Marked's canned range of ready-to-eat items came down from 101 containers (worth ₹14 crore) in 2016-17 to 72 (worth Rs10 crore) in 2017-18.
Among all, the ready-to-eat Sohna brand saag products took the maximum hit, with orders coming down from 20 lakh cans to 15 lakh cans.
"Our distributor in Dubai (UAE) used to cater to the Qatar market. Last year, Qatar banned imports through third countries to make direct imports. Now, we have roped in a distributor in Qatar to deal with the new situation," said a Markfed official.
Markfed's export orders to Dubai fell from 54 containers in 2016-17 to 31 in 2017-18. During the same time, Australian orders came down from 18 to 4 containers while in the UK it fell from nine to six containers.
As per figures, exports majorly suffered during the January-March quarter in 2017-18, during which Markfed shipped just a single container to Australia and 12 to Dubai.
"We are going for damage control and I hope we will fill the gap," said additional chief secretary (cooperation department) DP Reddy.
In Australia, Markfed's agent failed to manage distribution and as the sale fell he reduced the price.
Since the UK banned import of milk products, Markfed stopped export of saag and dal makhni since they are cooked in milk-based products. To deal with this, Markfed has decided to use refined oil for tadka in saag and dal.
Radio jingles to popularise desi products abroad
To woo the desi customers abroad, Markfed is planning to enter tie-ups with radios stations in the UK, the middle-east, Canada and Australia to play its jingles to popularise the Sohna brand of sarson da saag and dal makhni. To recover the losses, the cooperative also plans to venture into south and west Indian markets. It plans expand the list of ready-to-eat products to Gujarati kari, poha and upma.
Once the ongoing registration of Markfed's canneries and export inspection gets over, it plans to export honey to the UK and other European countries. Besides, it also plans to introduce pulses and spices to the United Nations-sponsored kitchens in the strife-torn middle-eastern countries.
Close Story