Panchayat polls: Video of Congress supporters casting bogus votes in Ludhiana goes viral
Hindustan Times, Ludhiana |
Mohit Khanna
Sep 23, 2018 12:08 PM IST
The video shows supporters of party candidate Bhupinder Kaur Kahlon purportedly polling bogus votes in the Zila Parishad polls.
The Congress, which is already facing accusations of vote-rigging, has been caught on the wrong foot yet again after a video showing supporters of party candidate Bhupinder Kaur Kahlon purportedly polling bogus votes in the Zila Parishad polls has gone viral on social media.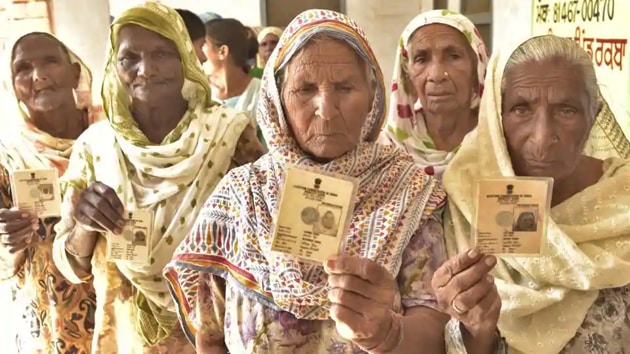 While alleged supporters of Kahlon can be seen casting vote in the ballot box, voters continue to look on as mute spectators. A policeman is also seen in the video, but he does not stop Kahlon's supporters from casting 'bogus' votes. In the video, Kahlon's son Baljinder Singh Kahlon, also a Congress worker, is seen in the polling booth while alleged bogus voting is on.
On the viral video, the Shiromani Akali Dal (SAD) accused the Congress of booth-capturing. Former minister and SAD spokesperson Mahesh Inder Singh Grewal said the video testified their claims that the Congress had employed all illegal means to win the election. "The state machinery and, especially, the police have openly helped the Congress in booth capturing," Grewal claimed.
Former SAD MLA Darshan Singh Shivalik, in-charge of Gill Block of SAD, said "I had personally lodged a complaint with the deputy commissioner (DC) about vote rigging and also staged a dharna outside the polling station, but to no avail." DC Pardeep Agrawal, however, said he did not receive any complaint in the matter.
Slamming the allegations, Baljinder Singh said, "I visited the polling booth at Nirmal Nagar for three minutes just to check the election process. One can see the video to ascertain if I was involved in any kind of rigging or just standing in a corner." son of Congress Zila Parishad candidate Bhupinder Kaur Kahlon, who was seen in the video.
Sukhbir Singh Randhawa, who was also caught in the video claimed neither Baljinder nor any other party supporter entered the polling booth. "We are God-fearing people and don't indulge in wrong practices," Randhawa said.
Meanwhile, Congress spokesperson Raman Subramaniam said he hadn't seen the video. "Sporadic irregularities happen because of the charged electoral environment. Election in Punjab has been violence-free. The state election commission has ordered repoll in more than 54 polling booths due to irregularities. The Congress does not condone or support such actions of their cadres. If any violence or irregularity happens, it is the duty of the affected party to approach the officials concerned to get their grievances redressed," Subramaniam said.
It is not for the first time that Kahlon has courted a controversy. During the run-up to polls, a jail inmate allegedly put up a social media post, urging locals to vote for Kahlon, the Congress candidate from Gill Block. Kahlon is also facing charges for assaulting RTI activist Kuldip Singh Khaira.