Ranjit panel report: Ex-DGP Sumedh Saini among 24 cops get showcause notice
The move is seen as the government's attempt to show that it is not going soft on police officers manning the agitators.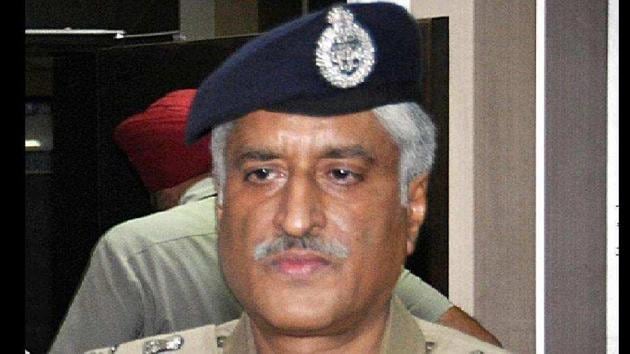 Updated on Aug 28, 2018 09:26 AM IST
Hours before tabling the Justice Ranjit Singh (retd) panel report in the assembly, the Capt Amarinder Singh-led Congress government on Monday issued show-cause notices to 24 cops, including former director general of police (DGP) Sumedh Singh Saini, for dereliction of duties while handling sacrilege cases.
Showcause notices have also been issued to former chief
secretary Sarvesh Kaushal, former principal secretary to CM SK Sandhu and former
special secretary to CM Gagandeep Singh Brar.
The state government has instructed chief secretary Karan Avtar Singh to initiate disciplinary action against them for acts of omission and commission while dealing
with the tense situation at Kotkapura and Behbal Kalan following a dharna against the sacrelige of Guru Granth Sahib in October 2015. Ten junior-rank officers have also been put on notice.
"The chief secretary has been directed to take appropriate disciplinary action against civil officials as per recommendations of commission and complete the same in 90 days," reads the action taken report (ATR) tabled by the government along with the report.
Apart from Saini, senior police officials who have been issued notices are: then ADGP (law and order) Rohit Chaudhary, then Bathinda zone IG Jatinder Jain, then ADGP (bureau of investigation) Iqbal Preet Sahota, then Ludhiana police commissioner Paramraj Singh Umranangal, then IG MS Chinna, then Ferozepur DIG Amar Singh Chahal, then Faridkot SSP Sukhwinder Singh Maan, then Ferozepur SSP Hardyal Singh Mann, then Mansa SSP Raghubir Singh, DSPs Baljit Singh Sidhu, Jagdish Bishnoi and Bikramjit Singh.
All these officials were present at dharna site at Kotkapura and were managing affairs in different capacities.
The ATR is, however, silent on the role of DIG RS Khatra, who was also part of the team that was holding parleys with the agitators before forcefully removing them. He has already admitted his presence and has reportedly justified the action on the protesters.
The ATR says departmental probe has also been ordered against then Moga SSP Charanajit Sharma, SP Bikramjjit Singh, inspector Pardeep Singh and sub-inspector Amarjit Singh.
Already, a murder First Information Report has been registered against these four officials who were leading the police party that allegedly opened fire at Behbhal Kalan on October 14, killing two protesters.
In the ATR, explanation of 10 cops below the rank of Inspectors has been sought for mishandling investigation of different other cases of sacrilege.
The DGP has been directed to ensure action against these officers.
Close Story