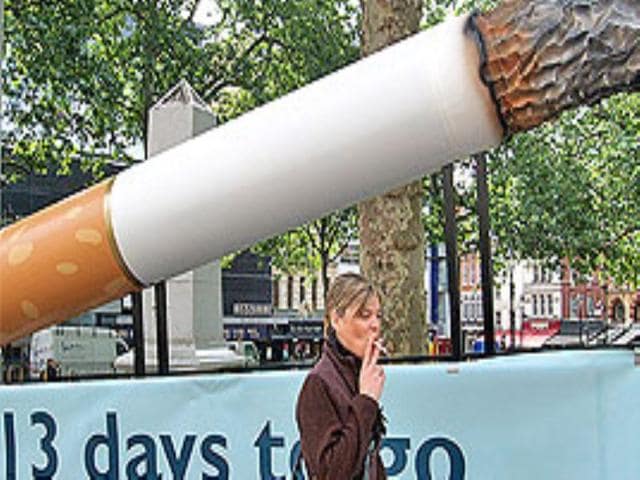 Anti-tobacco act derails in state within two months
The ambitious law of central government, Cigarette Others Tobacco Products Act (COTPA)-2013, has derailed in Jharkhand within two months after its adoption due to the absence of any central government guidelines
UPDATED ON MAR 06, 2014 03:06 PM IST
The ambitious law of central government, Cigarette Others Tobacco Products Act (COTPA)-2013, has derailed in Jharkhand within two months after its adoption due to the absence of any central government guidelines.
Dhanbad district health department on Wednesday officially admitted to National Tobacco Control Programme (NTCP) team that in the absence of central government guidelines and lack of proper funds, implementation of COTPA is standstill in the district so far.
The central government introduced COTPA in two districts of Jharkhand, Dhanbad and Jamshedpur, after 11 years.
Dhanbad adopted the act to make the district tobacco free on January 29 followed by Jamshedpur on February 25 last.
The two-member NTCP team, comprising Dr AB Rinkoo and AK Panjikar, had been on a two-day tour of Jharkhand on Wednesday and took status reports of the act in Dhanbad and discussed with the health department officials regarding implementation of COTPA under the 12th five year plan.
Dr Rinkoo refused to talk with media persons saying that he would submit the Jharkhand reports to the Ministry of Health only.
However, he said that due to short span of time, the team has cancelled Jamshedpur tour and will directly go to Kolkata for reviewing status of the act in West Bengal.
Dr Arun Kumar Sinha, civil surgeon (CS) of Dhanbad, said the district has completed all its work like formation of committees and other formalities but major task of imparting training to health professional, police personnel, teachers, NGOs and orientation of law enforcing agency have been stuck in lack of fund and guidelines of central government.
"I have also made it clear to the central government officials that even if the fund is released to the district the act would not be made effective till central government sends the guidelines," Sinha said.
Interestingly, the central government team was non-committal regarding the amount of funds allotted to the district.
Close