Protests, opposition cripple Jharkhand's industrialisation drive
Economists, industry see BJP's industrial aspirations failing in state.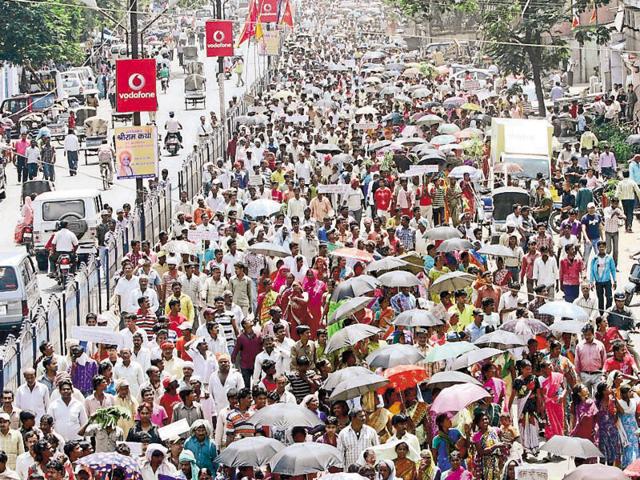 Updated on Sep 01, 2016 03:33 PM IST
At a time when investment-hungry Jharkhand, which accounts for more than 40% of the country's mineral resources, is planning summits and framing fresh industrial policies to lure investors from home and abroad, protests by land losers and tribals coupled with political pressure from opposition have put the ruling BJP government in a Catch-22 situation.
The latest among a series of upsurge by land losers led to the death of two villagers in Ramgarh's Gola on Monday during a protest against non-granting of displacement benefits by a private sector power plant. The agitators turned hostile and the police resorted to firing.
Last month, leaders of all opposition parties joined hands to protest against land acquisition by National Thermal Power Corporation (NTPC) in Hazaribagh's Barkagaon leading to the detention of several leaders, including a former chief minister and sitting legislators.
While opposition parties are busy painting the BJP "anti-people", economists and industry experts foresee a failure in the government's industrial aspirations.
"The protests are justified. You cannot take away the livelihood of villagers and not incur their wrath. In fact, the entire approach of the government towards industrialisation is wrong. They are focusing on mineral-based industries while completely ignoring the scope of forest-based industries here," said renowned economist Ramesh Sharan.
"You cannot deny the fact that land acquisition is the greatest problem here. The government is inviting foreign investors and has given less scope to domestic investors which too may go against them," he added.
Pradip Jain, director of Federation of Jharkhand Chamber of Commerce and Industries (FJCCI), said though the state was inviting investors, the ground realities were challenging. "We do not have surplus power, skilled labour or suitable infrastructure. Only minerals will not help the cause."
Meanwhile, the BJP government's ordinance proposing amendments in the twin tenancy laws — Chhotanagpur Tenancy Act and Santhal Pargana Tenancy Act—allowing acquisition of tribal agricultural land for non-agricultural purposes has also backfired with tribal bodies taking to the streets.
"They (BJP) are nothing but agents of corporates. They are anti-people, anti-tribal and pro-capitalist. The government is working to please capitalists and sacrifice common villagers for it," said JMM national general secretary Supriyo Bhattacharya.
State Congress president Sukhdeo Bhagat stated, "No government representative bothered to even talk to the victims' families."
State BJP president Laxman Gilua, though, said the government has ordered a probe into the matter and immediate action against the officials responsible for the Gola incident.
Insisting that the department was ensuring proper procedure for land acquisition and rehabilitation of land losers, state industry director K Ravi Kumar said, "How can we generate jobs if industries are not set up? Providing livelihood is a government priority."
UPA's Land Acquisition Act
The Right to Fair Compensation and Transparency in Land Acquisition, Rehabilitation and Resettlement Act was passed in 2013 and came into effect on January 1, 2014.
The Act requires consent (80% votes) of the gram sabha and panchayats concerned. Lays emphasis on studying the social impact of the acquisition in the area
The provisions of this Bill did not apply to acquisitions under 16 existing legislations including the Special Economic Zones Act, 2005, the Atomic Energy Act, 1962, the Railways Act, 1989, etc.
Close Story