Mersal, 'Joseph' Vijay and the politically charged GST scene controversy
Grist Media |
Prathibha Parameswaran
Oct 28, 2017 06:07 PM IST
From controversial GST scene to his Christian name, Joseph Vijay and his film Mersal has gone through some tough times.
In a cheeky move, on October 25, Tamil star Vijay thanked everyone who stood by him in making Mersal a grand success, using the letterhead with his full name "C Joseph Vijay" to write the same. Cheeky because Vijay's full Christian name was 'revealed' by BJP General Secretary H Raja last week implying a secret religious angle to the now famous Mersal controversy. Raja and the state BJP unit had taken offence because Mersal had made a non-complimentary reference to GST, and raged a bit at the collective failure of India's healthcare.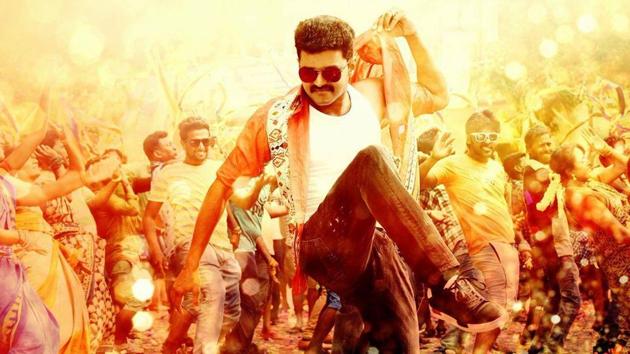 Tamil actor Vijay's release for this Diwali, Mersal, was supposed to be an assured box office winner even before its release. Directed by Atlee, who was also behind the actor's previous blockbuster Theri, it contains all the formulaic elements of a mass movie along with Vijay in a triple role as a magician, village chief and doctor. But Mersal's journey has taken another turn.
In the movie, Vijay, as the magician, addresses the media and highlights the need for better healthcare facilities in Tamil Nadu, and asks how Singapore, which levies only 7 percent GST, offers free healthcare, while India, which levies 28 percent GST, doesn't. This irked the state's BJP leaders because Vijay dared criticise a move that ridiculed the politics of Prime Minister Narendra Modi. BJP's state unit president Tamilisai Soundararajan said that "recent introduction of Goods and Services Tax has been negatively portrayed in the film. Mersal also wrongly claims that that healthcare in Singapore is free." The BJP has since demanded that scenes be cut from the film. "Many of the central government policies such as demonetisation, the Digital India programme and the recent introduction of Goods and Services Tax have been negatively portrayed in the film," claims BJP state unit president Tamilisai Soundararajan.
But the real flare up came about when party leaders decided to resort to name-calling. Or in this case, bringing up the actor's Christian name to imply ulterior motives. On October 22, H Raja, BJP's national secretary, tweeted a photo of Vijay's voter ID and his official letterhead bearing the actor's almost never-used full name 'Joseph Vijay'. According to a report by NDTV, Raja also said that "Vijay is a practising Christian. He should have said build hospitals before churches, instead he says build hospitals before temples," referring to a dialogue in the film where Vijay exhorts people to build hospitals instead of temples.
Vijay's father, producer SA Chandrasekar, told HT, "H Raja's comments seem comical at the most. Vijay's exhortation in the film [to build hospitals] was for the welfare of the people. And because his name is Joseph, you cannot make assumptions about his character or behaviour." Veteran Tamil writer and columnist Gnani Sankaran said that it was "stupid of Raja to act the way he did. He's [Vijay] been a Christian for a long time, why rake it up only with this film? So does Raja intend to say that a Christian cannot make a film or comment on an issue?"
Vijay has been a star a long while. He started out as a child actor in Tamil cinema in a number of his father's films. It was in 1996 that he made his breakthrough, in a film called Poove Unakkakaga and made a name for himself as a romantic hero in films like Love Today, Kadhalukku Mariyadaai and Thullatha Manamum Thullum in the 90s. In the next decade, Vijay started fashioning himself as a mass action hero and a commercial movie savant with big films like Thirumalai, Ghilli and Pokkiri, establishing himself as a box office favourite with an enviable opening record. His films today are largely formulaic, replete with punch dialogues, action sequences and social messages. And in star-crazy TN, mass action heroes and do-gooders are never that far away from politics.
Putting aside recent excitement that Kamal Haasan and Rajinikanth have indicated that they may join politics (Rajinikanth for rather long), Vijay, in 2009, launched a people's movement called the Ilayathalapathy Vijay Makkal Iyakkam, which lent its support to the All India Anna Dravida Munnetra Kazhagam (AIADMK)-led front in the Assembly elections in the same year. Vijay had also flown to Delhi to meet with Anna Hazare during his anti-corruption movement in 2011, met with Prime Minister Narendra Modi in 2014 at an election rally in Coimbatore and with Congress' Rahul Gandhi back in 2009, dropping hints along the way.
This isn't even the only controversy that Mersal has faced. Its journey till release was fraught with hurdles — strikes, an interim injunction against the use of the name Mersal and much delay in obtaining a Non-Objection Certificate from the Animal Welfare Board of India. Reportedly made at a cost of Rs. 130 crores, Mersal is the most expensive Vijay film yet, Before it finally released on October 18, the producers of Mersal organised a grand audio launch (which included the likes of AR Rahman, Dhanush) and even collaborated with Twitter to create a Vijay emoji. Luckily it has emerged as a money-spinner. Despite being mired in disputes, it grossed over Rs 120 crore worldwide, five days after its release.
The film and actor Vijay have found support in the two superstars of Tamil cinema, Kamal Haasan and Rajinikanth, Congress leaders Rahul Gandhi who tweeted, "Mr. Modi, Cinema is a deep expression of Tamil culture and language. Don't try to demon-etise Tamil pride by interfering in Mersal" (sic) and P Chidambaram who tweeted, "BJP demands deletion of dialogues in 'Mersal'. Imagine the consequences if 'Parasakthi' was released today", and DMK MP Kanimozhi who also tweeted this — "It's outrageous and diabolical to bring up a persons religion when an important economic problem is brought into focus".
Some supporters have also seemingly faced immediate consequences — most prominently fellow actor and current president of the Tamil Nadu Film Producer's Council, Vishal Krishna. "Everyone has the freedom of expression and besides the movie has passed the certification. If you keep bending down to everyone's points of view — muting dialogues and editing the film — finally all that will be left would only be censor certificate and rolling titles. Once it's approved by the censors, why should you buckle to pressure," he told HT.
After H Raja claimed, to a news channel, that he watched Mersal on the internet, Vishal slammed the leader for watching a pirated version. A day later, the actor's production company Vishal Film Factory was raided by Income Tax officials for the alleged non-payment of Tax Deducted at Source (TDS) amounting to Rs 51 Lakh. "I do not know the ulterior motive behind this. I did my duty and furnished the details required by them. The timing is curious; but it may even be coincidental," Vishal told HT.
The producers of the film seem to have arrived at an understanding with the state BJP leaders and announced that the film will not be edited further. According to the actor's father SA Chandrasekar, the producers have clarified that the scenes were not designed to humiliate a particular political party.
This isn't, of course, the first time political parties have directly interfered in Tamil cinema. In 2013, Kamal Haasan's Vishwaroopam came under the scanner, for allegedly hurting the sentiments of Muslims and in a television interview, the actor hinted that former CM Jayalalithaa may be behind his troubles with the movie. Even Vijay's films have been embroiled in controversies earlier. Vijay's meeting with Rahul Gandhi in 2009 had spawned rumours of a political entry by the actor, angering the DMK government in power.
The speculation then was that this was why his 2011 release Kaavalan found it hard to get enough theatres (most of whom were controlled by those close to the government). He then extended his support to the AIADMK in 2011, but reportedly fell out of favour with the government soon after. In 2013, his movie Thalaivaa landed in trouble again when a previously unknown organisation called the Oppressed Students' Revolutionary Union sent death threats to theatre owners forcing the state police to stall the release. When the movie finally hit the theatres after much mediation, the state government refused to grant it an entertainment tax exemption causing it to suffer further losses. Thalaivaa, which originally carried a tagline 'time to lead' was seen by many as hinting at an imminent political entry by the actor.
So is Mersal's theme a subtle political messaging on part of an actor keen to enter politics? "Mersal is a typical commercial entertainer that is just making using of contemporary issues to craft a larger than life character. Vijay may be testing waters. But the BJP's comments are just giving him an extra impetus to enter politics. The film has certainly benefited from the publicity," Gnani says.
"Both the regional parties in TN have always been threatened by the movies. The leaders of both the parties have been historically linked to films and the fear of it happening again has been bothering them for long," Chandrasekar says.
Vijay fans (and potential voters) have played their own role in the controversy, coming out in strong support of the star when it looked like the producers just might cave to the BJP's demands. Divya Kannan, an avid Vijay fan, is the administrator for the Facebook Page 'Actor Vijay Makkal Iyakkam' that has a list of over 57 thousand members. She says, "Fans are discerning enough to tell between facts and fiction, which is why we have come out in support of him. The film only showcases some real life instances and Vijay anna's (brother) messages are more like suggestions than commandments." Chandrasekar says, "His fans look upon Vijay as God. They don't just see Vijay as a star, but as a brother or a son. So when someone makes hurtful statements against him, they would obviously be angry,"
It may well be that the state BJP unit's attempt to hide any political critique that was visible in a Vijay movie has instead magnified Vijay's thus far embryonic political career.
(Published in arrangement with GRIST Media)
Follow @htshowbiz for more.
ott:10:ht-entertainment_listing-desktop