10 funniest pick-up lines people have heard or used on online dating apps
Funny and cheesy pick-up lines may not score you a date, but they are guaranteed to make you laugh. Unless you enjoy being laughed at, consider yourself warned.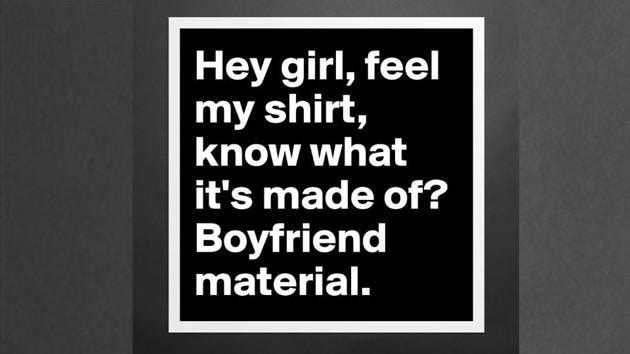 Updated on Nov 08, 2018 12:07 PM IST
In an effort to avoid a generic "hey," plenty of online daters turned to clever pick-up lines as an opening message to their potential matches. The thinking seems to go that if a simple message isn't going to get them a date, then a cheesy joke or well-crafted pun will do the trick. The issue is that most pick-up lines are just dressed-up dad jokes — some are hilarious, some are cringeworthy, and most are both.
We've scoured Reddit boards like r/OkCupid and r/BestTinderPickupLines to find the punniest, funniest and most cringe-worthy pick-up lines people have heard (or used) on online dating apps. Use them at your own risk.
+ +
"If you were a vegetable, you'd be a cutecumber."
"Girl, are you sitting on the F5 key? Because that a$$ is refreshing."
"If I could rearrange the alphabet, I'd put 'U' and 'I' together."
"Feel my shirt. Know what it's made of? Boyfriend material."
"Excuse me, would you like some wine to go with this cheesy pickup line?"
"I could tell you a bad joke about a pizza, but it's a bit cheesy."
"Are you my appendix? Because I'm not sure how you work but this feelin' in my stomach makes me want to take you out!"
"Do you know how much a polar bear weighs? Enough to break the ice."
"Im a firm believer in the idea that you get what you give... so here's my number."
"Hey I lost my phone. Can you text me at XXX and see if anyone has found it?"
Close Story