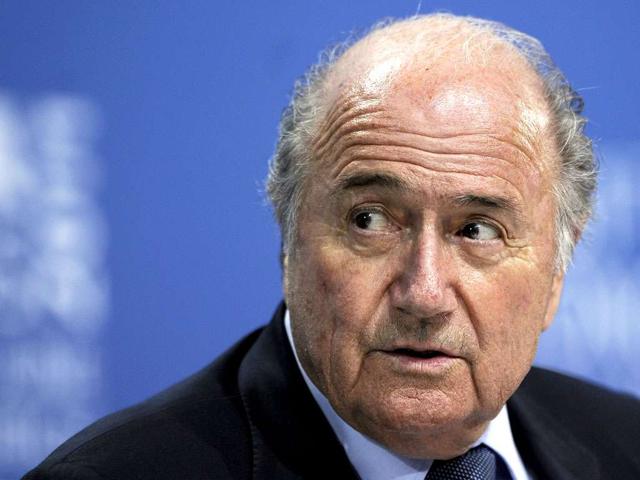 Blatter lauds India's U-17 World Cup bid
Fifa chief backs India to launch successful bids for 2017 Under-17 World Cup and 2015 Club World Cup. HT reports.
UPDATED ON MAR 09, 2012 11:38 PM IST
"A sleeping giant needs more than one alarm clock," was Fifa president Joseph 'Sepp' Blatter's resonating response to a question here on Friday. For him, India has been a "sleeping giant of world football" since 2000 when Blatter first used the phrase during the national team's visit to England. Between then and now, which includes a visit to India in 2007, Blatter, 75, said there have been signs of the slumber ending.


On a day when All-India Football Federation (Aiff) president Praful Patel confirmed that India would be bidding for the 2017 under-17 World Cup and the 2015 Fifa Club World Cup, Blatter reaffirmed his mission to see the development goals bear fruit.
"When we started our development programmes in 2002, we confirmed that we would committed to seeing India grow as a footballing power. The initiative to start grassroots development and the U-17 World Cup bid is a good one. The decision to allow India to host it isn't just mine but you'll have to start building a team now for the prestigious 24-nation tournament," said the Swiss who has helmed football's world body since 1998. Blatter's deft jocular vein was present through the interaction. Asked whether India is guaranteed to host the U-17 finals, he said: "Were I prophet, I would not have been the president of Fifa." His imitation of Prime Minister Manmohan Singh's wife and mentioning the numerical superiority of Fifa in comparison to the United Nations drew the requisite if slightly uncomfortable laughs.
The three-time Fifa president also stated that India's progress was being monitored strictly. "We are following the development of football here very carefully. There are special people attached to track progress and there's a Fifa development office here now. Training centres have come up at Sikkim and Bangalore and $8 million (now `40.2 crore) has been provided to realise the turf projects. But growth here will happen only when the government and the federation work together."
Goalline technology
Blatter also spoke of his stance on goalline technology. "The principle of goalline technology has been accepted by the International Football Association Board (IFAB) and we will choose the technology on (the basis of) three markers: how accurate it is, immediate and lack of complication. We have tested two technologies already that are 99% accurate."
Close