Sargar's undaunted spirit earns him a silver
Updated on Jul 30, 2022 10:08 PM IST
The weightlifter injured his elbow in the clean and jerk section but by then the medal was sealed.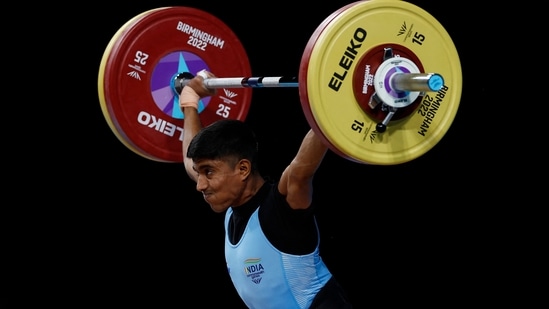 Barely minutes after wrapping a silver medal around his neck—India's first medal at the 2022 Commonwealth Games (CWG)—at the NEC Hall 1 in Birmingham, Sanket Sargar could not move an inch of his right arm. Tucked in a white sling, Sargar felt the shooting pain from deep inside. "Andar see kheech raha hai pura," he said.
The 21-year-old from Sangli couldn't have possibly stretched himself any further for that gold.
Aiming for the skies has been at the heart of Sargar's growth as a person and weightlifter. His family runs a small tea and food stall in Sangli in Maharashtra, where Sargar would often chip in for a shift.
Sargar's father, Mahadev, was the central figure in charting the journey of his son into the sport. With a weightlifting academy near his stall in Sangli, Mahadev enrolled Sargar into it a decade ago. The interest for weightlifting is heightened in their family. Sargar's sister, Kajol Sargar, is also a promising weightlifter, the 16-year-old winning gold at the Khelo India Youth Games held in Panchkula last year.
Sargar, who is a history student at Kolhapur's Shivaji University, is aware of the rich weightlifting and sporting culture from where he comes from, and is proud to have made a small addition it but it came with a painful twist.
At the halfway stage of the men's 55kg weightlifting final on Saturday, Sargar had a comfortable 6kg lead above the next best across the snatch section--Malaysia's Mohamad Aniq Kasdan. The Indian's body language effused that, pointing to the India logo on his jersey after lifting his best snatch attempt of 113kg in front of a loud cheering audience. Gold well in sight.
Sargar's first clean and jerk attempt was a successful 135kg while Kasdan went 138kg. Gold still in sight.
Full of poise, Sargar walked out for 139kg in his second attempt. During his lifting motion, he heard a sound from his right elbow. "Kur jaisa," Sargar said. The barbell fell behind, and Sargar grimaced clutching his right arm. While he was getting it examined by the medical team, Kasdan failed in his 142kg lift. As things stood going into the final attempt, Sargar had a total lift of 248kg, 3kg more than Kasdan. Gold still in sight.
Sargar came out for his final attempt and soon turned back bending over, the discomfort in the arm making it impossible for him to lift 139kg or even stand upright. The Indian sat and watched Kasdan pull off the incredible heist, a 142kg successful final attempt for a Games record 249kg. Gold gone.
At 21, Sargar had just won his first CWG medal, but the physical pain and mental agony of losing the gold was too crushing for him to even afford a smile.
"I'm a little happy about the silver, but sadder because I wanted to stand there wearing the gold," Sargar said. "I've been thinking about that gold for four years, trained for the gold for four years. Gold lena hai, gold lena hai—that was my only mindset."
Not just for those four years, that remained the fixated thought in his mind between the second and third lifts in his conversation with head coach Vijay Sharma, who cautioned him about the risk of aggravating the pain should he go ahead with the final attempt.
"I said I don't want to leave anything out there. I've worked for this for four years, and I didn't want to stop at the last step. I was in pain, but my body was warm so I wasn't feeling it too much then," Sargar said.
The weightlifter felt a sudden load on his right elbow during that second lift of the clean and jerk. He matched his snatch national record of 113kg but clean and jerk was to be his undoing.
In February, Sargar had broken the Commonwealth and national record in his 256kg (snatch 113kg, clean and jerk 143kg) victory at the Singapore International. At the World Championships last year though, Sargar couldn't complete the clean and jerk to back up the 113kg in snatch. "I have lifted 5kg more than this in training (in clean and jerk)," he said, the smile still eluding the silver medallist's face.
"We have had Maruti Mane (the late wrestler) from there. This medal will mean a lot to the people of Sangli," Sargar said, before the lingering thought in his mind showed up again. "But I wished I had won the gold."
Enjoy unlimited digital access with HT Premium
Subscribe Now to continue reading
Personalise your news feed. Follow trending topics