Classy Croatia knock Canada out of the World Cup
Updated on Nov 27, 2022 11:50 PM IST
Dalic's side turned in a clinical, professional performance to get their first win of the tournament.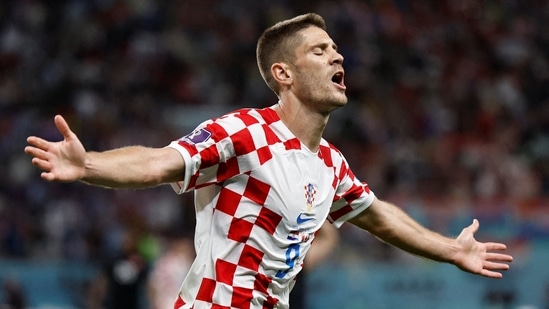 Canada are going home after the 1-4 defeat to Croatia and the World Cup will miss their songs. For two games, Doha has heard their fans in red bounce in metros and on stadium concourses.
"Alphonso Davies, Alphonso Davies," is how their ode to the Bayern Munich player begins and references his curly hair. After "I love you so, Alphonso Davies," the singer asks Davies to make " his babies". Another speaks of Canada landing in Doha "drinking Coca-Cola" and "going all the way." Having done their routine in the metro to Khalifa Stadium on Sunday, three Canadians asked "where are the Croats?" Spotting a father-son, both with Modric on their backs, they said: "Please don't score against us. For 36 years we have had nothing."
Davies gave them something so early in the game that neither Canada nor Croatia could believe what had happened. Goalkeeper Milan Borjan played to Cyle Larin who found Tajin Buchanan on the right. The right-side attacker arced in a cross and Davies attacked the ball climbing ahead of Croatia right back Josip Juranvoc to score with a header.
"Let's go Canada," reverberated across the massive Khalifa Stadium, one of the oldest in the city. To have scored the country's first World Cup goal days after missing a penalty and that too against the team that finished second in the last iteration gave Canada's frontline trio of Davis, Larin and Buchanan a reason to push for more and leave Croatia rattled. Canada were playing passes in their front third in a manner that belied their lack of experience at this level.
Gradually though, Croatia got a foothold on the game. In their exuberance to attack, Canada began to leave spaces in the midfield that gave Croatia a chance to take control. Andrej Kramaric was marginally off-side and then Marko Livaja's shot was saved by Borjan. One minute later, in the 36th, Kramaric equalised.
Ivan Perisic played an inside pass that wrong-footed the defence and had Kramaric running into space. The 1899 Hoffenheim player shot past Borjan into the far post side netting. When Marko Livaja made it 2- in the 44th minute, heads dropped for those in black shirts. Croatia rode their luck after Kamal Miller slipped in trying to get the ball off Josip Juranovioc who then found Livaja. With a full goal to aim for, Livaja rifled a shot to Borjan's right. Soon Kramaric blasted over and before they went in at half-time, Croatia had shown who's boss.
Canada coach John Herdman had said on television that he had told his boys that they "belonged here" after the performance against Belgium, one that Mexico coach Gerard 'Tata' Martino had said was pure class, and that they would "F Croatia." This led to a Croatian tabloid printing a picture of a naked Herdman with a maple leaf covering his private parts. And Perisic and coach Zlatko Dalic saying that they didn't agree with Herdman's choice of words. Perisic had even said he couldn't wait for the match to begin. Luka Modric and Riche Larya once clashed needing Uruguayan referee Andres Matonte's intervention.
Jonathan Osorio's shot curled away agonisingly for Canada early in the second half and Jonathan David to tried from range but Croatia were running the game. Kramaric was denied by Borjan before he made it 3-1 in the 70th minute before a horrendous error by Miller led to Mislav Orsic and Lovro Majer against Borjan. Orsic let Majer do the honours in the fourth minute of second-half stoppage time.
After two games, Canada have zero points but the other three teams go into the final set of games knowing they have a chance to stay beyond the group league.