Group A

| TEAMS | | MP | W | D | L | F | A | GD | P |
| --- | --- | --- | --- | --- | --- | --- | --- | --- | --- |
| | Italy | 3 | 3 | 0 | 0 | 7 | 0 | 7 | 9 |
| | Wales | 3 | 1 | 1 | 1 | 3 | 2 | 1 | 4 |
| | Switzerland | 3 | 1 | 1 | 1 | 4 | 5 | -1 | 4 |
| | Turkey | 3 | 0 | 0 | 3 | 1 | 8 | -7 | 0 |

Group B

| TEAMS | | MP | W | D | L | F | A | GD | P |
| --- | --- | --- | --- | --- | --- | --- | --- | --- | --- |
| | Belgium | 3 | 3 | 0 | 0 | 7 | 1 | 6 | 9 |
| | Denmark | 3 | 1 | 0 | 2 | 5 | 4 | 1 | 3 |
| | Finland | 3 | 1 | 0 | 2 | 1 | 3 | -2 | 3 |
| | Russia | 3 | 1 | 0 | 2 | 2 | 7 | -5 | 3 |

Group C

| TEAMS | | MP | W | D | L | F | A | GD | P |
| --- | --- | --- | --- | --- | --- | --- | --- | --- | --- |
| | Netherlands | 3 | 3 | 0 | 0 | 8 | 2 | 6 | 9 |
| | Austria | 3 | 2 | 0 | 1 | 4 | 3 | 1 | 6 |
| | Ukraine | 3 | 1 | 0 | 2 | 4 | 5 | -1 | 3 |
| | North Macedonia | 3 | 0 | 0 | 3 | 2 | 8 | -6 | 0 |

Group D

| TEAMS | | MP | W | D | L | F | A | GD | P |
| --- | --- | --- | --- | --- | --- | --- | --- | --- | --- |
| | England | 3 | 2 | 1 | 0 | 2 | 0 | 2 | 7 |
| | Croatia | 3 | 1 | 1 | 1 | 4 | 3 | 1 | 4 |
| | Czech Republic | 3 | 1 | 1 | 1 | 3 | 2 | 1 | 4 |
| | Scotland | 3 | 0 | 1 | 2 | 1 | 5 | -4 | 1 |

Group E

| TEAMS | | MP | W | D | L | F | A | GD | P |
| --- | --- | --- | --- | --- | --- | --- | --- | --- | --- |
| | Sweden | 3 | 2 | 1 | 0 | 4 | 2 | 2 | 7 |
| | Spain | 3 | 1 | 2 | 0 | 6 | 1 | 5 | 5 |
| | Slovakia | 3 | 1 | 0 | 2 | 2 | 7 | -5 | 3 |
| | Poland | 3 | 0 | 1 | 2 | 4 | 6 | -2 | 1 |

Group F

| TEAMS | | MP | W | D | L | F | A | GD | P |
| --- | --- | --- | --- | --- | --- | --- | --- | --- | --- |
| | France | 3 | 1 | 2 | 0 | 4 | 3 | 1 | 5 |
| | Germany | 3 | 1 | 1 | 1 | 6 | 5 | 1 | 4 |
| | Portugal | 3 | 1 | 1 | 1 | 7 | 6 | 1 | 4 |
| | Hungary | 3 | 0 | 2 | 1 | 3 | 6 | -3 | 2 |
Updated on Jul 12, 2021 06:24 PM IST
Euro 2020 Final, Italy vs England: Responding to speculations that he didn't want to take a penalty kick, England's Jack Grealish took to Twitter to slam his critics, saying he said he wanted to take one.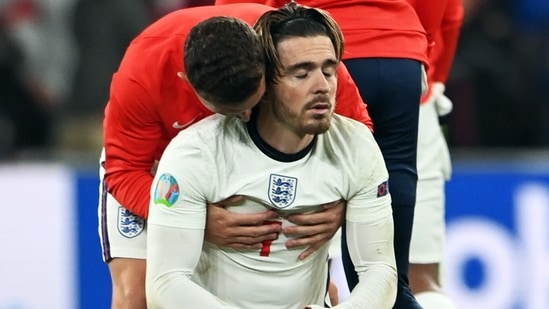 Much like Ronald Koeman's questionable celebration against Germany in the 1988 Euros, historically the Euros have been home to such outrageous moments.

Published on Jul 12, 2021 05:34 PM IST
Euro 2020 entertained one and all with a total of 142 goals in 51 games. While some were thunderbolts, some were sheer class. Here are the top 5 goals from the Euro 2020.


Updated on Jul 12, 2021 02:50 PM IST
Here's a team of the tournament chosen comprising the standout players from the 24 competing nation


Published on Jul 12, 2021 03:03 PM IST
The Italian national football team, that landed in Rome with the trophy on Monday after beating England in the Euro 2020 final at the Wembley Stadium, was welcome by a huge crowd gathered outside their team hotel.


Updated on Jul 12, 2021 02:41 PM IST
Portugal captain and modern-day great Cristiano Ronaldo won the Euro 2020 Golden Boot after finishing as the top-scorer in the tournament, in which Italy beat England in the final to lift their second European Championship title.


Updated on Jul 12, 2021 12:32 PM IST
The Metropolitan Police condemned the "unacceptable" abuse of Marcus Rashford, Jadon Sancho and Bukayo Sako, and said they will be investigating the "offensive and racist" social media posts published soon after Italy won Sunday's shootout 3-2 after the match ended 1-1.


Published on Jul 12, 2021 04:53 PM IST