Living in the past leading to Pakistan's slide, says team's coach
Jan 19, 2023 09:37 PM IST
Dutch Siegfried Aikman, in charge since 2021, says he has not been paid for months.
Resplendent in the FIH president's room, facing the blue turf of Kalinga Stadium here, is the 11.56kg World Cup trophy that was designed by Pakistan's Bashir Moojid. The trophy was crafted by the Pakistan Army and this tournament the brainchild of Pakistan's Air Marshal Nur Khan. Pakistan is also the most successful team in the World Cup with four titles.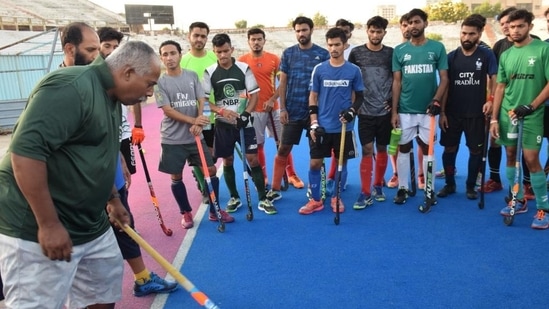 But they are not among 16 teams in Odisha competing for the trophy, the second time in three editions. Once masters of the game, Pakistan have also had to suffer the ignominy of not qualifying for the last two Olympics. The sport – their national game – is suffering with Pakistan's ranking plummeting over the years, down to No. 16 in the world.
The situation is so dire that the Pakistan Hockey Federation (PHF) didn't pay coach Siegfried Aikman, who guided Japan to their maiden Asian Games gold in 2018, for over eight months after which the Dutch coach returned to the Netherlands. Aikman had joined in December 2021 with a contract till 2026. But on not being paid, he flew back to the Netherlands in December 2022. But earlier this week, there was talk in Pakistan hockey circles that Aikman could be paid soon.
"I have heard this many times. During the 2022 Commonwealth Games, they said it will be done in a few days. It's been a little more than a few days so I want to see it (salary) first. If I see it, it's okay. I have told them if they don't pay me by February, I will not return," said Aikman. "Yesterday evening, I spoke to the Pakistan Hockey Federation (PHF) secretary-general. He is really trying. I am not in a fight with PHF. It is more (about) politics. The government is funding PHF but are not releasing the funds. If you don't release funds then how can PHF pay?"
Aikman last got paid in April 2022. He has since been living off his savings and being supported financially by his wife. When funds ran out, he returned home. "It is about delivering professional services, being a professional and to treat it as a profession. They should take professional responsibilities as I do," he said.
Asked about the problems plaguing Pakistan hockey, Aikman mentioned two main reasons. "First, living in the past. The whole system is controlled by the old Olympians who are very dominant. They were successful 30-40 years ago but are stuck in that time like India was. That needs to change," said Aikman, who has Indian ancestry.
"Secondly, start grassroot development of coaches, introducing hockey as it is played now. The knowledge about global hockey is very poor in Pakistan. You need to activate that. That is something cultural and takes a long time. Good thing for Pakistan is that they can learn from India. Don't live in the past. Create modern hockey."
Aikman said Pakistan should follow the Indian model which took the team to the Olympic podium in Tokyo less than two years ago. It was India's first hockey medal in the Olympics after the gold in 1980.
"You need to be patient like India. (Ex-Hockey India president) Narinder Batra did a tremendous job. I met him at the 2010 World Cup. He had his plan and stuck to it. He managed to keep going despite ups and downs. He was efficient and changed hockey in India," said the 63-year-old.
"Hockey also changed due to Odisha. The support they get is tremendous. That creates an atmosphere for hockey. But they also earned it by keeping on track, believing in the dream they had. Now, there are 400 qualified coaches in India and it is increasing. That is the model Pakistan should try. Hockey needs Pakistan and Pakistan needs hockey," he said.
Enjoy unlimited digital access with HT Premium
Subscribe Now to continue reading