'I was super excited to go into enemy territory': Devin Clark on UFC Fight Night's last moment venue change
Feb 04, 2023 03:19 PM IST
In an exclusive interview with Hindustan Times Digital, Devin Clarke talked about his ambitions for 2023, his upcoming fight against Jung Da Un, and the last moment venue change from Seoul to Vegas
The UFC Fight Night on Sunday will see Devin Clark square off against Jung Da Un with both the MMA fighters hoping to make a return to the winning column. Clark endured a tough knockout defeat in his previous fight against Russian Azamat Murzakanov in August last year. Jung also heads into the fight following a defeat against Dustin Jacoby, which was his first in his short UFC career.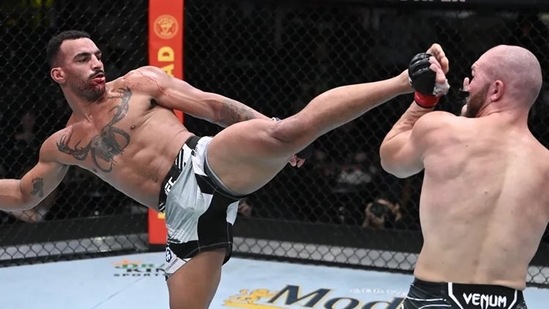 The event was initially scheduled to be held in Seoul, South Korea but after a last moment change in plans, it is now being held at UFC Apex in Las Vegas. In an exclusive interview with Hindustan Times Digital, arranged by Sony Sports, the official broadcaster of UFC in India, Devin Clarke talked about his ambitions for 2023, his upcoming fight against Jung Da Un, and the last moment venue change from Seoul to Vegas. Here are the excerpts…
Q) Your fight against Jung Da Un is your first in 2023, and you would look to start the year on a positive note. But can you tell us if you have any specific targets set for the year?
Yeah, win this fight and then win at least one more. Uh, you know, if I fight twice this year and it's two victories, I'm happy. Two dominant victories because I'm looking to move up in the division, so I need two, two really good fight camps and two really good wins.
Q) Jung Da Un may not be as experienced as you, but he has a phenomenal win record. So, what are your thoughts on your opponent?
I can't underestimate a guy like that. I've fought a lot of guys like him up and coming and I've gotten beat by up and coming guys like him. So he's an opponent that I have to take very serious.
And at the same time, I'm very serious about winning this fight as well and doing whatever it takes to win this fight.
Also Read | 'Agar main nahi, toh kaun': Uttarkashi's Anshul Jubli 'guarantees' India UFC contract ahead of big fight vs Jeka Saragih
Q) The match was originally supposed to be held in South Korea but it was shifted to Las Vegas, so Jung definitely will miss out on the home support that he was expecting. Does this bring balance to the contest?
Um, maybe, maybe not. Because I was super excited to go into enemy territory too, in his backyard, at his home, and fight him because that's an exciting thing too. And I can't say that all the fans would be against me, but you know he's the local guy. So it adds to that pressure and that excitement of going out there and knowing that it's gonna be a tough fight.
Q) While many have predicted Jung as the favourite heading into the fight, we know you are well equipped to prove them wrong. So what are your thoughts on it, and can you also tell us what are the areas you feel that you are stronger than your opponent?
Being an underdog has never really bothered me. Most of my fights, I'm an underdog. Just because of some of my past experiences in the cage where, you know, something might happen, might get a little injury and the fight doesn't turn out the way I want it. So there's no problem there. People can say what they want. I know what I can do. I have confidence in my abilities. I know I'm a really good wrestler. I know I can throw, I know I can strike really good. And I have the experience on him. I've been in the UFC almost seven years now and I've, I've gained a lot of knowledge in this sport. So those are some of the areas where I know I can beat him.