Watch: Vintage Murray rolls back years to hit stunning winner in epic rally with Berrettini in Australian Open thriller
Jan 17, 2023 01:31 PM IST
Australian Open 2023: Andy Murray hit a stunning winner in an epic rally vs Matteo Berrettini in his first round fixture, at the Rod Laver Arena.
Up against Matteo Berrettini, Andy Murray is currently playing his best tennis in a long time, in his first round fixture of the ongoing Australian Open 2023, at the Rod Laver Arena. The Scotsman lost to Berrettini in the third of last year's US Open and will be eyeing revenge.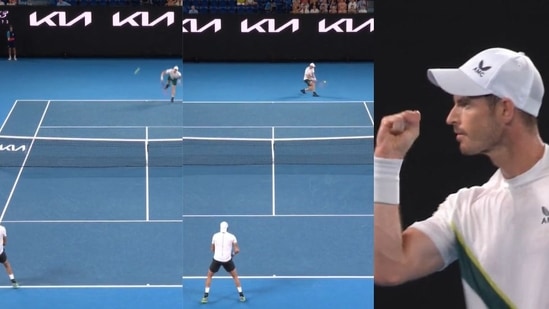 The former world no. 1 won the first set 6-3, and claimed the second with another 6-3 win. But the Italian ace had other plans and staged a comeback, winning the third set 6-4, followed by a thrilling wrap in the fourth set, winning 7(9)-6(7).
Also Read | Australian Open 2023: Heat halts play for three hours
The duo also had a 15-shot rally, with Murray serving. During the intense rally, both players tested each other's forehands and backhands, with Murray finally winning the point with a stunning shot. Here is the video:
Murray entered the Grand Slam as unseeded and had a poor Wimbledon, where he was defeated in the second round by John Isner. He failed to secure a top-32 rank and is currently world no. 66. A win in the first round of Australian Open will be huge boost to Murray's confidence.
He has been accompanied in Australia by his coach Ivan Lendl. Lendl returned to Murray's team last year and he has largely been coaching Murray remotely. Murray has also revealed that he is in good shape for the Australian Open, and his body is used to the metal hip. "I do think that now my body is used to having the metal hip there. I'm not getting so many aches and pains now, which is interesting, because if you talk about the ageing process, when I was 33 I was getting way more issues with my body than I'm getting now at 35 and a half, just because my body is used to the new hip", he said.