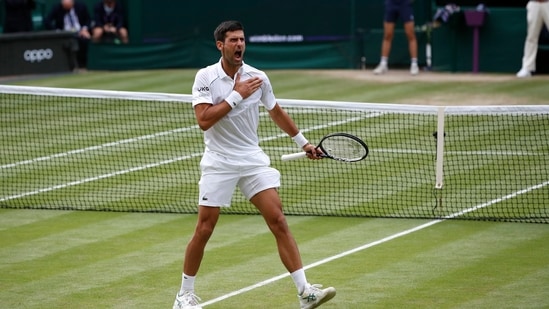 Wimbledon 2021 Semifinal updates: Djokovic beats Shapovalov to enter men's singles final
Novak Djokovic Vs Denis Shapovalov, Wimbledon 2021 Semifinal Live Score: Here is a look at all the results of Wimbledon 2021 Day 11 matches, with Novak Djokovic, Denis Shapovalov, Hubert Hurkacz, and Matteo Berrettini in action in men's singles quarterfinals.
UPDATED ON JUL 10, 2021 12:01 AM IST
WELCOME TO DAY 11 OF WIMBLEDON 2021: Four players fight it out on Friday at the Centre Court in order to make it to the finals of the Wimbledon. In the first semi-final, Matteo Berrettini will face off against Hubert Hurkacz while world no.1 Novak Djokovic takes on 10th-seed Denis Shapovalov in the second men's singles match of the day.
Djokovic is chasing a career Grand Slam as he has already won the Australian Open and French Open in 2021. Meanwhile, Hurkacz will be hoping to show that his win over 8-time Wimbledon winner Roger Federer wasn't a fluke.
1) Order of play for men's semi-finals
Matteo Berrettini v Hubert Hurkacz
Novak Djokovic v Dennis Shapovalov
2) Play starts
Berrettini faces a tough challenge in Hurkacz, who stunned the world when he defeated Federer in straight sets in the quarter-finals. Both players are on the court and play has begun.
3) Berrettini takes the first set
Matteo Berrettini has won the first set 6-3 against Hubert Hurkacz. He won two break points while Hurkacz could not capitalise on his single break point chance.
4) Berrettini wins second set
Berretinni is dominating Hurkacz in the first semi-final as he did not lose a single game in the second set to go 2-0 in the match. 5 breakpoints have been won by Berretinni in the semis so far.
5) Hurkacz gets back in the match
Hubert Hurkacz looked to be heading for a defeat when Berrettini was 5-4 up in the third set but he made a comeback and managed to win the set in a tiebreaker.
6) Berrettini beats Hurkacz
Matteo Berrettini has entered the men's singles final after beating Hubert Hurkacz 6-3, 6-0, 7-6, 6-4 in the semi-final. He will meet the winner of the Novak Djokovic vs Denis Shapovalov.
7) Djokovic enters the Court
Djokovic will look to overcome the challenge provided by Denis Shapovalov as he looks to reach his third Grand Slam final of the year.
8) Djokovic comes back to win first set
Djokovic has won the first set 7-6 against Shapovalov. The set went into a tie-breaker but Djokovic prevailed 7-3. Both players won one breakpoint each in the set.
9) Djokovic leads 2-0
It was a tough fight between the two but Djokovic broke Shapovalov in the last game to take the set 7-5. Shapovalov is fighting hard but Djokovic is able to fight through in the end.
10) Djokovic wins
Djokovic has entered his third Grand Slam final of 2021 after he beat Denis Shapovalov 7-6, 7-5, 7-5. He will meet Berrettini in the final on Sunday.
Close