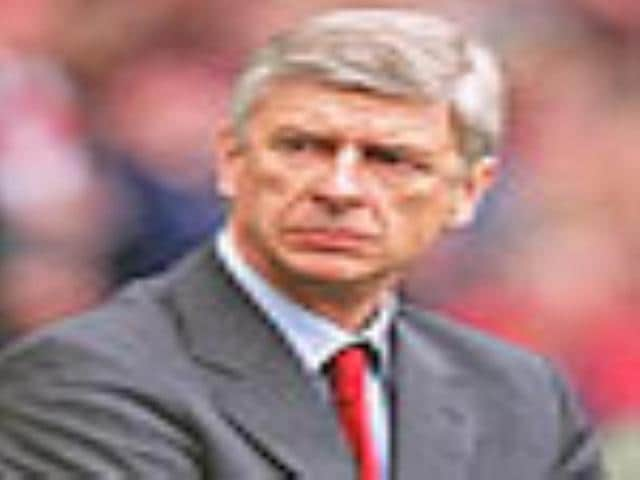 Wenger proud as Arsenal lift gloom
Arsene Wenger insisted he was proud of his Arsenal players after Santi Cazorla lifted the gloom around the Emirates Stadium with a crucial double in a 2-1 win over Aston Villa.
UPDATED ON FEB 24, 2013 08:38 AM IST
Arsene Wenger insisted he was proud of his Arsenal players after Santi Cazorla lifted the gloom around the Emirates Stadium with a crucial double in a 2-1 win over Aston Villa.


Wenger had faced renewed calls for his resignation after last weekend's embarrassing FA Cup exit against second-tier Blackburn and the midweek Champions League defeat against Bayern Munich only added to the impression of a club spiralling out of control.
In the circumstances anything but a victory against struggling Villa on Saturday would have given Wenger's critics more ammunition to attack the Frenchman, so there was a sense of relief when Cazorla bagged the winner with five minutes remaining.
Until then Arsenal had laboured to kill off third bottom Villa, who recovered from Cazorla's first half opener to equalise through Andreas Weimann after the break.
Cazorla's efforts moved Arsenal within one point of fourth placed Tottenham and Wenger admitted he was impressed with the way the under-fire Gunners responded to their difficult situation.
"I'm proud of the attitude of the team," Wenger said. "We went through some difficult days and responded in a united way."
When Wenger gave a tetchy press conference before the Bayern match it seems the pressure was starting to take its toll.
But he refused to say whether the last week had been the worst of his 17-year tenure, claiming he had been in the job too long to be affected by criticism.
"I don't know if it was the worst but it was difficult. The most difficult was not the criticism but the fact we lost two games," Wenger said.
"I'm here to win games. But we lost against Blackburn and Bayern here, at home. When people come to the Emirates, they're not to go away with wins. The rest concerns me less.
"You do your job and focus on the next game. That's what I did. I'm not 30 years in this job at the top level to be destroyed by people saying I don't know what I'm doing.
"I would have stopped this job a long time ago. But we have responsibilities and have to stand up and get the team ready to fight.
"We are in a catch-up situation. We did depend a bit on the results of the other teams, but also on our consistency.
"The key for us is to be consistent. A draw today would have been a very, very bad result."
Wenger also praised Cazorla for stepping up at such a crucial moment.
The Spaniard scored after six minutes and then again five minutes from the end to ensure that Weimann's excellent 68th-minute equaliser ended up proving irrelevant.
"Cazorla played very well and delivered in a game that was very important," Wenger said.
"He's a great player. What you have noticed already, he has shown he's a great football player and I'm happy and grateful he delivered those two important goals."
Villa slipped back into the relegation zone as a result of Wigan's win at Reading, but boss Paul Lambert felt his team's performance deserved a positive result and he remains defiant they will stay up.
"We shouldn't have lost it. We were exceptional in parts of that game and we should have been in the lead at half-time," Lambert said.
"At the very least we should have come away with a point. We've played like that for a number of weeks: West Brom, Everton, Newcastle in the second half, West Ham.
"We've just got to try and get more points on the board. We've got massive games still to come, and there'll be a lot of twists and turns this season.
"I have the belief in ourselves that we'll always be okay. I don't get caught up in the whole issue."
Close