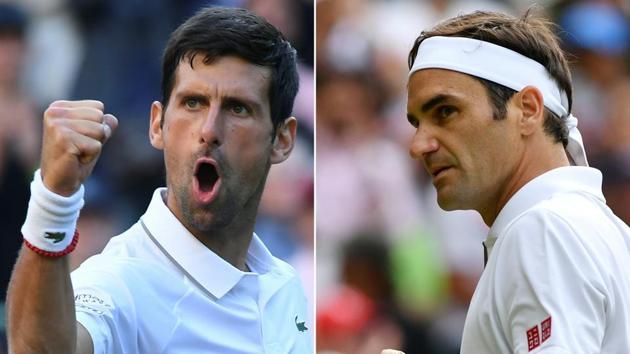 Australian Open Semi-final 2020 Highlights: Djokovic thumps Federer to enter eighth final
As it happened: Novak Djokovic prevails in the titanic clash as he beats Roger Federer 7-6, 6-4, 6-3 to enter the final. A rare off day for Federer as he was defeated in straight sets by the defending champion. Earlier, 14th seed Sofia Kenin stunned world number one and home hope Ashleigh Barty to reach her first Grand Slam final. Meanwhile, Garbine Muguruza prevailed 7-6(8) 7-5 in a battle of attrition against world number three Simona Halep to reach her first Australian Open final.Follow Australian Open highlights below -
UPDATED ON JAN 30, 2020 04:47 PM IST
16:45 hrs IST
Djoker speaks
Novak Djokovic pays tribute to Roger Federer and Rafael Nadal after his victory and says the rivalry with them has made him a better player. 'I hope I have made Roger a 20% better player' said Djokovic when he was asked about what has he learnt by playing 50 matches in his career against Federer.
16:38 hrs IST
Djokovic enters final
Novak Djokovic prevails in this titanic clash as he beats Roger Federer 7-6, 6-4, 6-3 to enter the final. A rare off day for Federer as he was defeated in straight sets by the defending champion. This is the eight time that Djokovic will play in an Australian Open final.
🇷🇸 U-N-S-T-O-P-P-A-B-L-E 🇷🇸@DjokerNole def. Roger Federer for the 27th time 7-6(1) 6-4 6-3 to earn the chance to play for his 8️⃣th #AusOpen title 🏆#AO2020 pic.twitter.com/Hy7lu8AIHo

— #AusOpen (@AustralianOpen) January 30, 2020
16:33 hrs IST
Djokovic to serve for win
Roger Federer holds off his serve to make it 3-5 in the set. However, Djokovic wil now serve to enter the final of Australian Open for eight time in his career.
16:27 hrs IST
Djokovic on the cusp of win
Novak Djokovic was down 0-30 in the game but Federer hit couple of unforced errors and the defending champion came back strongly to came the game. He leads 5-4 and is on the verge of winning the contest.
16:20 hrs IST
Federer's serve broken
Novak Djokovic has a chance to extend his lead as he breaks Federer's serve to lead 4-2. Djokovic will now serve to edge closer to victory. Federer, on the other hand, will have to break this Djokovic serve just to stay alive in the semis.
16:10 hrs IST
Both stars hold their serves
A steady start to the third set from Djokovic and Federer has both players have managed to keep a hold of their respective serves. The third set is currently locked at 2-2 with no one willing to give an inch to the other player. Federer will have to break Djokovic's serve in order to make a comeback into the match.
16:02 hrs IST
Djokovic wins second set as well
Defending champions Novak Djokovic wins the second set 6-4 to go a step closer to the championship clash. Federer has no answers to Djokovic's hard-hitting shots and he has been under the pump since taking 4-1 lead in the first set. He needs a miracle to turn the game around from here.
15:56 hrs IST
Djokovic takes lead
Novak Djokovic continues to send down his booming serves and gets the better of Roger Federer. Djoker now leads 5-4 and Federer will have win the game off his serve to stay alive in the second set.
15:50 hrs IST
Federer 6-7, 3-3 Djokovic
Djokovic holds his serve, this one is getting rather intense. Federer is visibly not as mobile and Djokovic is now hitting his stride
15:35 hrs IST
Second set: Federer 6-7, 1-1 Djokovic
HawkEye confirms Djokovic's shot went wide and somehow, Federer steadies himself with a valuable hold
15:33 hrs IST
Injury concerns?
Roget took a three minute medical timeout after losing the first-set tiebreaker. As per Jim Courier, it could be a back issue.
Djokovic eventually found his range and wore Federer down.

Federer has gone off court for a medical timeout. Trainer motioned that it was his back.

Unlikely to be competitive from here.

— David Law (@DavidLawTennis) January 30, 2020
15:28 hrs IST
2nd set begins
How did Federer lose that one? It was an astounding comeback by Djokovic. This match is heating up nicely. Djokovic holds his serve.
15:20 hrs IST
Djokovic takes opening set
Novak Djokovic made short work of Roger Federer in the tiebreak as he won it (7-1). Djokovic has completely turned the match on its head as at one point he was 1-4 down in the set but he took it 7-6 in the end to show his never-say-die attitude. Djokovic hit 19 unforced errors in the first set but still he has managed to come out on top.
15:15 hrs IST
Tiebreak
From 15-30 down, Djokovic wins the game off his serve to force the first set into decider. Both players have hit back hard after going down but no one has looked completely on top of their respective games so far.
15:10 hrs IST
Federer saves two break points
All was lost for Federer as he was trailing 15-40 in the game but the 20-time Slam champion showed his class and won the game after forcing it into deuce. Federer now leads 6-5 as Djokovic serves to stay alive in first set.
15:05 hrs IST
Scores level in first set
Novak Djokovic took time to wake up in the semis but boy he is back. He is hitting Federer will everything and the scores are now level at 5-5 in opening set. Federer is now starting to hit a few unforced errors due to the pressure created by Djokovic.
15:00 hrs IST
Djokovic to serve to level score
Novak Djokovic seems to have found his range as he fails to lose even a single point off Federer's serve and win the game. Djokovic will now serve in his bid to level the score at 5-5. After that opening burst, Federer is on the backfoot for the first time today.
14:53 hrs IST
Federer to serve for first set
Federer wins the game off his serve easily without dropping a point and goes 5-2 up in the opening set. Djokovic needed deuce to get the better of Federer and stay alive in the first set. Federer will now serve for the opening set as he leads 5-3.
14:45 hrs IST
Djokovic survives Federer barrage
Federer has three break points but Djokovic managed to hold his serve and make it 4-2 in the opening set. A couple of net shots from Federer helped Djokovic get out of jail.
14:35 hrs IST
Djokovic broken again
Federer has broken Djokovic's serve for the second time today and he has a chance to extend his lead in the opening set. Djokovic is struggling with his line as unforced errors have plagued his game early on. Federer leads 3-1.
14:26 hrs IST
Two broken serves
Roger Federer has set the tone early on as he has broken Djokovic's serve to take a 2-0 lead in the first set. Federer himself almost lost his opening serve but managed to hold it after four deuces. Djokovic then straightaway breaks Federer's serve to make it 1-2 and he will have a chance to level the proceedings on his own serve.
14:16 hrs IST
Federer to begin proceedings
Roger Federer will serve first after the toss and the rivalry between these two is about to witness a new chapter here in Melbourne.
Coin toss goals!#AO2020 | #AusOpen | @djokernole | @rogerfederer pic.twitter.com/UtyEYQQvZe

— #AusOpen (@AustralianOpen) January 30, 2020
14:10 hrs IST
The blockbuster about to begin
Roger Federer and Novak Djokovic are making their way out at the iconic Rod Laver Arena as the two heavyweights with fight it out for a place in the final.
When our two most recent #AusOpen champions walk past their own names en route to @RodLaverArena.#AO2020 | #AusOpen pic.twitter.com/xCRoiF8Wuy

— #AusOpen (@AustralianOpen) January 30, 2020
13:06 hrs IST
MUGURUZA WINS
Halep hits the ball into the net and Muguruza wins an epic semi-final 7-6 (10-8), 7-5 in a match which spanned two hours and five minutes.
12:53 hrs IST
Muguruza hanging in there
Muguruza serves up a love game and hence, barely stays alive in the second set. The score reads 5-4.
11:10 hrs IST
Halep v Muguruza
Fourth seed Simon Halep takes on two-time grand slam champion Garbine Muguruza for the right to face Kenin in the final.
10:33 hrs IST
Kenin wins
Barty can't save the second match point! She has slammed the ball long and Kenin has taken out Barty. The crowd is stunned. Kenin takes the match 7-6 (8-6), 7-5!
10:02 hrs IST
Barty breaks Kenin
Barty hits her stride, that backhand is roaring and she has brought up a break point for the world No.1 at 30-40 up, and she does it! Kenin has been broken! That is the first break of serve for the match and Barty takes a 2-1 lead in the second set.
9:54 hrs IST
Kenin wins first set
Stunning comeback by Kenin, Barty has blown the advantage. Kenin wins the first set 7-6 after winning the tie-breaker 8-6! She won the last four points of that tie-breaker and also saved two set points in the process.
9:53 hrs IST
Kenin comes roaring back
Kenin wins three points in a row and now is up a set point of her own with another forehand winner! The American leads the tie-breaker 7-6.
9:48 hrs IST
Barty in front in tie-breaker
Barty and her big serving is too hot to handle, she is leading the tie-breaker 4-2 as the players switch ends.
Barty is leading the aces 8-2.
9:44 hrs IST
It's going down to the wire
12 up
12 down

A tiebreak will decide the opener. Who do you fancy to close it out?#AO2020 | #AusOpen pic.twitter.com/RGwG4iWssi

— #AusOpen (@AustralianOpen) January 30, 2020
9:42 hrs IST
Barty locked in a battle
Ash Barty won the first game as both her and Sofia Kenin held serve, the Aussie going up 2-1 in the first set.
Close