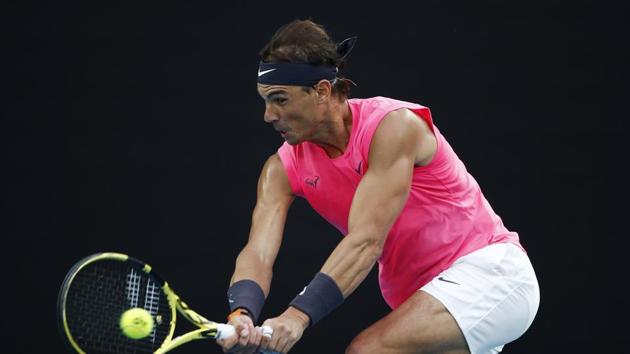 Australian Open Day 8 Highlights: Nadal beats Kyrgios to reach quarterfinal
Australian Open Day 8 Highlights: Rafael Nadal beats Nick Kyrgios 6-3, 3-6, 7-6 (8-6), 7-6 (6-4) to reach quarterfinals of Australian Open 2020. World number five Dominic Thiem swatted aside an error-prone Gael Monfils. Anett Kontaveit recovered from a set down to unseeded 18-year-old Iga Swiatek and fended off a late charge to fight her way into the Australian Open quarter-finals Monday. Halep beat Mertens to reach quarters. Simona Halep and Garbine Muguruza also booked their places in the Australian Open quarterfinals. Angelique Kerber lost to Anastasia Pavlyuchenkova, while Alexander Zverev defeated Andrey Rublev.Follow Highlights of the 2020 Australian Open -
UPDATED ON JAN 27, 2020 05:28 PM IST
17:26 hrs IST
Rafael Nadal wins
Rafael Nadal beats Nick Kyrgios 6-3, 3-6, 7-6 (8-6), 7-6 (6-4) to reach quarterfinals of Australian Open 2020.
17:16 hrs IST
Tie-breaker
Kyrgios has tied Nadal in the tie-breaker. Can the Australian go on to win the tie-breaker to push the match to a fifth set?
17:00 hrs IST
Kyrgios breaks serve!
Amazing from Nick Kyrgios who finds a new lease of life in the match as he breaks serve against Rafael Nadal. All level in fourth set 5-5.
17:00 hrs IST
Nadal serving for the match
Rafael Nadal is here to serve for the match. The match is about to get over? Or can Kyrgios rally for a comeback?
16:50 hrs IST
Nadal in front
This has been a typical set from Rafael Nadal. He made the most of a bad serving game from Kyrgios to get a break point. And now he is just holding on to serves comfortably. Just a matter of few minutes... unless there is a twist in the tale.
16:29 IST
Other Results
Angelique Kerber goes down after losing to Anastasia Pavlyuchenkova 7-6 (7-5), 6-7 (4-7), 2-6.
Alexander Zverev beats Andrey Rublev 6-4, 6-4, 6-4 to book quarters berth.
16:24 hrs IST
Nadal wins third set
What a third set tie-breaker it was! Krygios loses his cool and smashes a racquet. Nadal eventually wins the match 7-6 (8-6). Nadal one set away from quarters.
15:40 hrs IST
Sensational tennis
Both Kyrgios and Nadal are looking in top form at the moment - this third set has been amazing for both the stars. This could be heading to the tie-breaker soon.
15:04 hrs IST
Kyrgios serves for set, wins it!
Nick Kyrgios serves for set. Can he win this one? YES HE DOES! Kyrgios bounces back in the most Kyrgios way possible. Wins the second set 6-3!
14:51 IST
Other results
On Margaret Court Arena, Angelique Kerber won the first set 7-6(5) against Anastasia Pavlyuchenkova and score is 2-2 in the second set.
Andrey Rublev and Alexander Zverev are just starting on Melbourne Arena. Rublev leads 2-1 on serve.
14:50 hrs IST
Kyrgios breaks serve!
What a reaction from Kyrgios! He jumps up in air in celebrations as he breaks a serve against World No.2. A good comeback from the Australian in the 2nd set.
14:37 hrs IST
Kyrgios holds serve, but just
Nick Kyrgios holds on to serve in the second set, after four deuces. The Australian is starting to lose his temper and the atmosphere could get shifty soon enough.
14:22 hrs IST
NADAL WINS FIRST SET!
An unforced error from Kyrgios and Rafael Nadal takes first set easily, 6-3. Can the Australian bounce back?
14:20 hrs IST
Nadal serving for the set
Rafael Nadal is serving for the set. He has 5-2 lead in the first set, and Kyrgios needs to break serve here to keep the Spaniard away from first set win.
14:04 hrs IST
Nadal breaks serve!
Rafael Nadal breaks serve! He takes 3-1 lead after a tense game against Kyrgios. The Australian is starting to get frustrated, already.
13:54 hrs IST
All level at Rod Laver Arena
Things are all square at the moment between Nick Kyrgios and Rafael Nadal. Both the stars win serve points, and score is tied at 1-1 in the first set.
13:42 hrs IST
Kyrgios sporting Kobe Bryant's jersey
Goosebumps!@NickKyrgios & @RafaelNadal take a stroll down the 'Walk of Champions' which will lead them to tonight's battle ground: @RodLaverArena. #AO2020 | #AusOpen pic.twitter.com/S38azQSFha

— #AusOpen (@AustralianOpen) January 27, 2020
13:18 hrs IST
Rafael Nadal vs Nick Kyrgios - UP NEXT
Rafael Nadal will now go up against Nick Kyrgios, who has gained popularity among the Aussie fans in the past few days, with his new behaviour. Nadal and Kyrgios share a heated history, and more verbal onslaughts could be on the cards here.
13:16 hrs IST
Wawrinka through to quarters
Stan Wawrinka downs Daniil Medvedev 6-2, 2-6, 4-6, 7-6 (7-2) 6-2. He could face Rafael Nadal or Nick Kyrgious in the quarterfinals.
12:14 hrs IST
Federer's next
Roger Federer continues his quest for a 21st Grand Slam title at the Australian Open on Tuesday but for his journeyman opponent Tennys Sandgren their quarter-final meeting is the latest chapter in a story of survival in professional tennis.
11:07 hrs IST
Muguruza victorious
Garbine Muguruza underlined her return to form as she beat ninth seed Kiki Bertens in 68 minutes to reach the Australian Open quarter-finals. The unseeded former world number one won 6-3, 6-3 on Rod Laver Arena and faces German 17th seed Angelique Kerber or 30th seed Anastasia Pavlyuchenkova of Russia in the last eight.
10:56 hrs IST
Medvedev fights back
After losing the first set, Danil Medvedev takes the second set 6-2 against Stan Wawrinka
Daniil's here for it 👊

4th seed @DaniilMedwed hits 9 winners to take the second set over Wawrinka, 6-2 in 31 minutes.#AO2020 | #AusOpen pic.twitter.com/gOYVwnQFyL

— #AusOpen (@AustralianOpen) January 27, 2020
10:04 hrs IST
Kontaveit creates history
Anett Kontaveit recovered from a set down to unseeded 18-year-old Iga Swiatek and fended off a late charge to fight her way into the Australian Open quarter-finals.
9:52 hrs IST
Thiem wins
World number five Dominic Thiem swatted aside an error-prone Gael Monfils to book a maiden Australian Open quarter-final on Monday, with the Frenchman resorting to an underarm serve in desperation. The two-time Roland Garros finalist proved too wily for his experienced opponent, crushing him 6-2, 6-4, 6-4 on Rod Laver Arena.
8:16 hrs IST
Thiem leads
Dominic Thiem has taken the first set 6-2 against Gail Monfils in their fourth round match.
8:15 hrs IST
Halep victorious
Anett Kontaveit won the first set 7-6 in the fourth round clash against IgaŚwiątek while earlier, Simona Halep made short work of Elise Mertens as she won the match 6-4, 6-4.
05:00 hrs IST
Halep in action
Simona Halep faces 16th seed Elise Mertens for a chance to stake a claim in the quarterfinals.
Topics
Close