I like extremes, but similar surfaces better for players - Justine Henin
Henin, the former world No 1 from Belgium, and winner of seven Majors between 2003 and 2007, was in New Delhi as a brand ambassador for the French Open.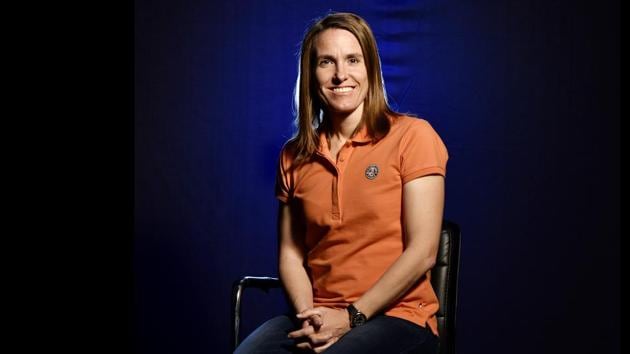 Updated on May 02, 2019 01:37 PM IST
Her one-handed backhand was so potent, none other than Martina Navratilova gushed: "We've got the female Federer, or maybe the guys have the male Justine Henin." John McEnroe's tribute was no less effusive, "best single-handed backhand in both the women's or men's game."
Henin, the former world No 1 from Belgium, and winner of seven Majors between 2003 and 2007, was in New Delhi as a brand ambassador for the French Open, which she won four times in five years. She was chief guest at the Roland Garros Junior Wild Card Series event held in the Capital. The winners of the boys' and girls' events qualified for the international finals in Paris, the pathway to a spot in the junior slam events.
The Belgian tennis great visited the Hindustan Times office, and gave her views in a freewheeling chat with the sports team.
Excerpts
First time in India, how do you find the Delhi summer?
Phew. I have played in the tough weather in the Basque but, in the afternoon when I hit with the kids, it was tough.
What was your impression watching Indian juniors playing?
I feel there is a lot of potential. Technically, tactically maybe they had a little less or more from other countries but I didn't notice they were so different for any one reason.
They might get the wild card to play in the junior tournament (at the French Open). It is the dream of their life to go and feel the atmosphere; they are not going to get that kind of atmosphere so often.
We had a good discussion yesterday afternoon. They wanted to know if I was nervous before the match. It was important to tell the kids what they feel is completely normal. Even when you are much more mature and even when you are at the top, you feel nervous. Not everything is going to be easy and perfect. It is hard, it is a long way if they dream of becoming a professional tennis player.
It will not happen in one day, they will fall down a lot before they achieve success
When you were playing, what was the more interesting rivalry for you—against Kim Clijsters or Serena Williams?
These two were interesting for different reasons. Kim and I are from the same country; if she wasn't there at the same time as me, I probably would have been a good tennis player. But she really pushed me to another level because when she was winning, I wanted to do the same. When you are from the same country, that creates a lot of expectations from the crowd. Also, there was a lot of pressure. That is why we have never really been able to play our best tennis against each other. Serena was the toughest mentally that I had to face. I have a very good record against her, but she pushed me to finally believe and find a conviction that I can beat her. Against Serena, it really proved, when you work on yourself, when you prove to yourself if you work hard, 'I can win this match', then you have a good chance to do it.
How has tennis changed?
Surfaces are much slower. We will not see serve and volley any more in the future. Players at the nets, we won't see that very often.
Okay, it is evolution, but in the past it created more specialists; you see less specialists on clay, for example, now.
Are you happy with this evolution?
Personally, I did prefer when you really had a clay season and a grass season. It is still the case, but there were differences. You also knew at the end of the season, you will also play indoors. Now there is a big circuit in Asia, which didn't really exist. I did like that, even if it wasn't easy to adjust, because you can imagine physically the surfaces were so different. It is hard on the body. I think for the players, it is much better that all the surfaces get much closer in terms of how you move, even if on clay you still had to slide. In certain ways it is better for the players, but in other ways, I did like it when it was really so different; you came to grass and it was fast, the bounce was low, and you had to work your muscles differently. I did like the extremes.
In 2008 you retired. You said you were burning out. What inspired a comeback?
It wasn't really a burnout, but I was tired for sure, thought it was time to do other things. Of course physically and mentally I gave a lot in the five years before that. Physically I worked at another level of intensity in the end of 2002. From 2003-07, they were my best years. I really gave a lot and I had injuries also. That takes a lot. I am not so strong. Physically, I have to be really good to perform against the other players. There was a lot of pressure. I wanted to go back to my personal life. I gave everything for 14 years since I was 5 or 6 year old.
I have no regrets because I wanted to get closer to my family, fix my past and do other things. In my first career I was quite unbalanced. I was balanced in my professional life but I couldn't find balance between the different aspects of my life.
When I came back 18 months later, I had the ambition to say that I am going to live it differently. I am going to live it with more balance. I am more matured. I had a lot of success when I came back. Physically I understood I have to work hard again because the game kept improving.
Do you think there is a lack of rivalries to today's tennis? Where are the future stars in men's tennis?
It is not easy to find a place behind them (Roger Federer, Rafael Nadal, and Novak Djokovic)! It's a new generation. We have to accept that. It's different. Halep could be one of the girls. Osaka has been doing well. Muguruza, but now she is not winning anything. Kerber, she won little bit, but then on and off. You don't have girls who can stay there.
Do you see a bit of yourself in Halep?
Yes, of course. Her game is a bit similar to mine. You can see she is a hard worker also. I know she is a big fan of me, so maybe she looked at what I did also. I was sure she will win a grand slam one day. She has the possibility to win more if she finds a little bit more consistency. I had the chance to see her play Fed Cup against France, I was commentating for TV two weeks ago. I am really interested to see her defend her first grand slam title (French Open). When you look from the beginning of the season, she has been the one who has been the most consistent. I see myself in her, in the patience she has, and also the capacity she has in the defence. Because I wasn't a pure attacking player, I was a more contact player. Physically there are players who put me under pressure. My tactic was to really be good in defence, to defend for 3-4-5 shots, and finally when I got the opportunity I changed the rhythm.
What has helped Serena go on and on?
I admire her, the fire, the passion. I got the feeling she wants to keep going till she wins a grand slam now that she is a mum. Serena, when she wants something, when it is in her mind, it is very hard to stop her. Having kids without being a professional tennis player is hard, so I admire the motivation, the fact she still wants to try with the family. A lot of respect for that.
What is more important for the game, mentality or talent?
You can have very good tennis, but if you have no character you have no chance. If you have the character and less talent then you still have a chance. Because when you want to work, when you want to go through difficult times you prove that you are never going to give up. I have seen a lot of players with lots of talent, but not enough good mentality.
Who do you support when Nadal plays Federer?
Very hard to say. I respect them for different reasons. Federer, it is the elegance. Federer has also been very smart, dealing with his career, the people he has around him, the way he stays away from injuries and tactically what he is doing on the court.
Nadal is a great person. The way he is working hard, the way he improved his game. He is not the same player, not able to do a volley like he has before.
Is the single-handed backhand going to be extinct?
I think we will see less and less because the game is getting more fast and physical. With two hands you control and get more power probably. For me, I always had the feeling I could control a lot of power with the single hand. Maybe now the game is faster than it was when I stopped eight years ago.
Close Story
Personalise your news feed. Follow trending topics